Home
>>
Lifestyle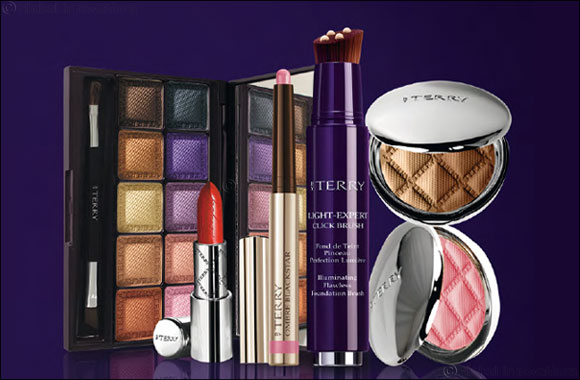 By Terry's Philosophy Initiate Woman to their own beauty style
'beauty is not a stereotype, your personal style is your own signature, to be expressed day by day'
- TERRY DE GUNZBURG
BY TERRY'S PHILOSOPHY
Initiate woman to their own beauty style
Founded in 1998, BY TERRY is a French Maison dedicated to beauty, born from Terry de Gunzburg's desires, needs and vision.
Its philosophy is simple :
'Beauty is not a stereotype, your personal style is your own signature, to be expressed day by day.'
When Terry founded her company, she also opened her laboratory of creation that plays a vital role in bringing simple solutions to women. Whilst respecting their individuality and personality, she introduces them to their own beauty style. BY TERRY combines beauty tips to facilitate women's approach to cosmetics and to put them at ease with the complexity of the professional results that they are looking for. Each woman expresses her own unique personal style, becoming the Pygmalion of her own expectations.
BY TERRY offers a cool attitude that is sophisticated, confident, independent, carefree, audacious and elegant.
The Maison reveals its know-how and its excellence within three universes: Haute Couleur, Haute Cosmetology and Haute Perfumery combining creation, vision and innovation.
TERRY DE GUNZBURG
'the artist' of beauty
The leading figure of her brand, Terry de Gunzburg has appointed her daughter, Marion Assuied, to act as CEO.
It is her vast art collection, which she has cultivated for many years, that has inspired her original and bold vision of beauty.
Native of the southern shores of the Mediterranean, she now lives between Paris and London. She adores traveling which has deeply influenced her creations. She understands and anticipates women's needs, captures trends, and constantly innovates.
Her expert products are infused with her non stereotypical, ingenious and ostentatious visionary genius. She inventes new gestures successfully combining ease of use with sophisticated performance to produce a multitude of results and to elevate all type of women and all personalities.
She knows how to reveal her secrets and know-hows to novices as well as introducing her ground-breaking solutions to the most experienced women.
Terry de Gunzburg is an architect of oneself, she imagines colour beyond flatness, she is an artist of beauty, a citizen of the world. She designs a masterpiece accessible to all women using technology for exclusivity and creation with an ease vision.
GALERIE VÉRO-DODAT
a place for creation, a space for revelation
1998. Terry de Gunzburg discovers an almost-secret covered passage in the heart of Paris. It is a place of excellence, of pictorial, literary and photographic creations. In this very unique mysterious place, Terry has a revelation.
The unveiling of a secret and a challenge are taking place : to innovate and change women's lives, through simple gestures and fitting creations giving new meaning to cosmetics.
BY TERRY opens her first boutique in the middle of this gallery, at number 21. In the Haute Creation laboratory on the first floor, using the most sophisticated and accomplished techniques and the purest ingredients, cutting-edge and innovative formulas are created and developed.
BY TERRY, LABORATORY OF CREATION
the 'objet de beauté '
BY TERRY designs much more than a beauty product:
it is a 'Objet de Beauté' concealing the treasures and secrets of its technical aspect, its sophistication, its excellence and know-how. With BY TERRY, colour becomes light, texture and care; the care is colour, volume and light whilst the fragrances enhance the personality of each woman.
This philosophy is embodied in the multi-functional and multibenefit formulas with high technological and sensorial added value. In this way, skincare is enriched by colour, the foundation goes beyond simple colour correction, water becomes 100% care and 100% colour make-up, the mascara beautifies
the eyelashes on surface and in depth, and fragrances transcend all codes and take on cosmetic colours. The signature of a multi-faceted spirit of the multiple creations.
BY TERRY'S HISTORY
– 1998. Opening of the first flagship store at 21 Galerie Véro-Dodat in Paris where Terry de Gunzburg offers a unique and original service: the development of customized make-up products in the same manner as Haute Couture.
– The products offer is very exclusive and distribution highly selective.
– Development of the make-up range with a 'ready-to-wear' line.
– Flagship corners opening in France at PRINTEMPS Haussmann, LE BON MARCHÉ.
2004. Creation of best-seller BAUME de ROSE.
2005. Launch of the first skincare line.
2006. Creation of the iconic LIGHT-EXPERT.
– International opening of flagship doors and selective beauty channels: France - United Kingdom - Europe - Australia - USA - Middle East - Hong-Kong.
2010. Launch of the Terrybly range.
2012. Creation of the first Fragrances Collection by Terry de Gunzburg.
2014. First opening in travel retail (Fragrance) .
2015. Launch of the new LIGHT-EXPERT Click Brush.
– Opening Asia (2016 - China)
– Global travel retail presence
– 1,500 points of sale worldwide
BY TERRY REVEALS HER KNOW-HO W AND EXCELLE NCE IN THREE AREAS:
MAKE-UP, SKINCARE,HAUTE PERFUMERY , BRINGING TOGETHER...
CREATION
VISION
INNOVATION
MAKE-UP
'From experience to expertise: a simple, straightforward approach to excellence and luxury.'
EXPERT RANGE
on-the-go tools
to make women's life easier
'EXPERT-EASE'
'MISTAKE-PROOF'
'MAKE-UP ARTIST SPIRIT'
This range is a new interpretation of the 'make-up studio' founded on practicality, simplicity and efficacy.
Innovative, clever and 2-in-1 products expertly designed to make women's lives easier, while offering perfectly flawless and professional make-up results.
SIGNATURE RANGE
THE PERFECT MATCH OF MAKE-UP AND SKIN CARE EMBLEMATIC PRODUCTS IN UNIQUE JEWELL CASES
Hybrid beauty care objects with a focus on technological distinction and sensory appeal. Formulas that combine colour and care, enhanced with corrective prisms technology. Intuitive and intelligent product lines designed using excellence and expertise to help women simply express their own individual beauty.
SKINCARE
'The beauty essentials for a woman are excellent hydration and a natural, fresh looking complexion'
CELLULAROSE® RANGE
THE EXTR AORDI NARY POTENTIAL OF ROSE NATIVE CELLS
Embodying values such as innovation, effectiveness and multi-sensory appeal, the CELLULAROSE® line is comprised
of 4 rituals:
The purifying skincare enriched with radiance-activating White Rose Native Cells: from cleansing to exfoliation, these products meet the specific needs of each skin type.
HYDRADIANCE enriched with moisturizing Pastel Pink and White Rose Native Cells: daily skincare that replenishes moisture and boosts radiance.
LIFTESSENCE enriched with the Essence of anti-aging Ruby Rose Native Cells: lifting and firming skincare for youthful radiance.
The skin-perfecting care enriched with radiance-activating White Rose Native Cells: offering both care and colour, these products are formulated with the most recent corrective technologies for perfectly flawless nude skin results.
BAUME DE ROSE
THE CULTLIP CARE FOR OVER 10 YEARS, BAUME DE ROSE HAS BEEN EMBELLISHING LIPS.
Best seller since its creation, loved all over the world, fully supported by celebrities, rewarded by the press… this cult lip balm concentrates nourishing, regenarating, protective multi-active ingredients. A luxurious formula, a glamourous texture, an addictive rose fragrance for soft, smooth, plump and sexy lips.
FRAGRANCE
'I imagined a sillage that women were missing.'
HAUTE PERFUMERY
FLAMBOYANTLY SCENTED TRAILS SHOWCASING TRADITION AND EXTRAVAGANCE
Formulated in Grasse in the purest form of tradition, the scent collection by Terry de Gunzburg experiment with an unrestrained creativity. The finest raw materials, the most rare and unexpected essences and the most captivating shades are staged in a glass monolith bottle crowned by the totemic drop of mercury, so imposing and sensual.
Today, the collection offers thirteen fragrances; radical and clean scents, flamboyant and minimalist, extraordinary and rigorous and of extravagant quality. All are as embellished, as radiant and as unpredictable as the Terry de Gunzburg multicoloured inspirations.
Home
>>
Lifestyle Section