Home
>>
Technology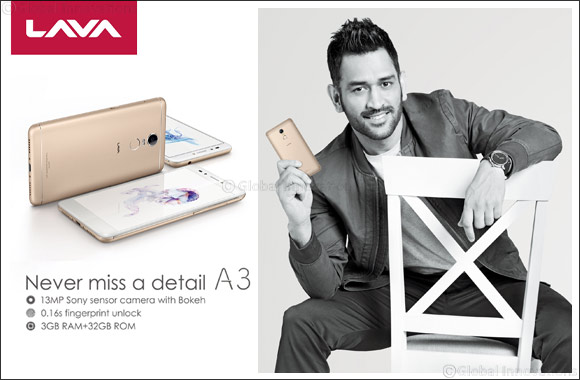 LAVA International Launches power-packed LAVA A3 Smartphone in MENA
The new smartphone – launched in the new year – is set to capture a larger market share in the GCC smartphone market. The company has tied up with leading retailers to support the Dubai Shopping Festival (DSF)
The power-packed LAVA A3 comes with a lot of advanced features, including 13MP Sony sensor camera with Bokeh; 0.16 seconds fingerprint unlock – a super-fast process and 3GB RAM+ 32GB ROM
LAVA is one of the fastest-growing smartphone brands in the world
With a price tag of Dh799 ($220), the dual SIM, dual camera smartphone unlocks in 0.16 seconds – a super-fast process
Dubai, January 09, 2017
LAVA International, manufacturer of the world's fastest-growing smartphone brand, announces the launch of A3 – a smartphone to power up work and life of young, upwardly mobile consumers who are increasingly relying on power-packed smartphones.
The dual-SIM smartphone comes with dual cameras – with 13 mega pixel and 8 mega pixel – with a faster fingerprint unlocking speed. At 0.16 seconds to unlock the screen – it is a super-fast fingerprint unlocking process available in the market, beating the world's most popular smartphones.
With starting prices at Dh799 apiece, the phone comes with a lot of camera parameters, functions, features and user experience of capturing photos, etc – idea for quick social media posts.
The move comes a few weeks after the company launched LAVA Metal 24 smartphone – which is selling like a hot cake. The company plans to manufacture 216 million handsets per annum in the next 5-8 years.
"As the world heralds in the new year, LAVA brings one of the best smartphones with advanced features for the young and trendy consumers who needs a better work-life smartphone partner while on the move and A3 is the new partner for the global consumers," Billy Luo, General Manager of LAVA International, Middle East North Africa. "LAVA A3 offers almost everything instantly. It is ideally suited for young professionals."
Although smartphone sales growth rate is slowing down worldwide, the Middle East and North Africa (MENA) region is witnessing an increase in sales volume in smartphone sales. Smartphone shipment in to the MENA region is estimated to have reached 171.2 million in 2016, up from 157.5 million, according to Statista.com – a global portal of statistics that collects information from 18,000 sources.
Smartphone sales value is estimated to have grown to US$42.2 billion in 2016, up from US$40.4 in 2015 in the MENA region, the portal said.
Meanwhile, Lava International has expanded its sales network across the GCC to accelerate the sales of Lava smartphones, especially the latest product – LAVA A3.
Mahommed Khizar Ulla, head of business at LAVA International DMCC, MENA, said, the company has tied up with major retailers to partner with the Dubai Shopping Festival (DSF).
"We currently have a strong network across the GCC markets to sell and offer strong customer service in the region," Khizar said. "As one of the fastest growing smartphone brands in the world, we are aware of the need for speedy customer and after sale service. That's why we are offering value added after sales service to customers across the region.
"As we grow our sales, there will be more customer centres to offer better experience to owners of LAVA smartphones."
LAVA International Limited is one of the leading global companies in the mobile handset industry today. Since inception in 2009, the LAVA family has grown to become one of the fastest growing handset companies in worldwide.
The company has operations in Thailand – where it is the market leader and offices in the UAE, Nepal, Bangladesh, Sri Lanka, Pakistan, Indonesia, Mexico, Middle East, Russia and Egypt.
Salient Features
LAVA A3 is officially being launched with the theme 'Never miss a detail'. It is about to demonstrate the beautiful details that you should never miss.
To meet customers' requirements, the new mobile phone LAVA A3 has been upgraded in various aspects, including the overall configurations, functions and user experience. First of all, LAVA A3 comes with a 5P lens 8MP front camera supplying extra lighting when capturing images in low-light situations, and a rear 13MP SONY IMX258 sensor with a high CRI flash and f/2.0 large aperture which increases the amount of light that can enter by 44 per cent. These features not only brighten your photographs, but also make them so much clearer that you won't miss any wonderful detail.
The second selling point of LAVA A3 is its fingerprint configuration. The 360 degree sensor allows you to unlock from the back with fingerprint in just 0.16 seconds. It is not just about speed and efficient experience, but optimization of security. The brand-new functions including fingerprint encryption, fingerprint activation for apps and snaps offer convenience.
In terms of configurations, the LAVA A3 runs on an Octa-core CPU with 3GB RAM and 32GB ROM, allowing several apps operating at the same time. The high performance and low power consumption ensure your smooth operation, while its 3020mAh battery basically caters to your needs for smartphones.
In short, the brand-new LAVA A3 is a super cost-effective, practical smartphone at an affordable price and of favourable functions and configurations. So, LAVA A3 has won consumers' hearts since it was launched.
Home
>>
Technology Section