Home
>>
Government, Legal & Humanity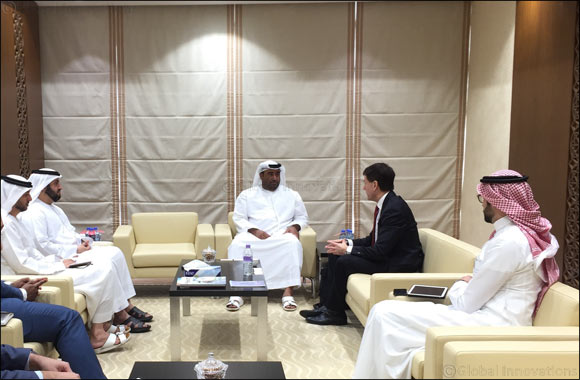 HE Rashed bin Lahej Al Mansoori receives Michael J. Saylor President & Chairman of MicroStrategy to discuss opportunities for cooperation
Underlines the position of the Emirate of Abu Dhabi as a global ICT hub

Abu Dhabi, April 18, 2017: His Excellency Rashed bin Lahej Al Mansoori, Director-General of the Abu Dhabi Systems &Information Centre , the pioneering Government entity responsible for the ICT agenda in Abu Dhabi , recently received in his office Michael J. Saylor , President, Chairman and CEO at MicroStrategy® (Nasdaq: MSTR) Incorporated, one of the world's leading company in the field of analytics technology for companies and mobility solutions and information security..
HE Al Mansoori thanked Mr. Saylor for his visit, adding that it confirms that International companies are interested in the technological developments in the Emirate of Abu Dhabi. HE stressed that the Center is ready and looking forward to strengthen bonds of cooperation with MicroStrategy.
HE Al Mansoori also presented an overview of the role of the Center in overseeing the ICT agenda, which aim to enhance the digital transformation in the Emirate of Abu Dhabi and achieve the goals of Abu Dhabi Economic Vision 2030, which aims to build a diversified, sustainable as well as knowledge and innovation -based economy.
HE Al Mansoori stressed that today Abu Dhabi, under the guidance of the HH Sheikh Mohammed bin Zayed Al Nahyan, Crown Prince of Abu Dhabi, Deputy Supreme Commander of the UAE Armed Forces and Chairman of the Executive Council, has an advanced infrastructure capable of supporting the building of an advanced ICT sector not only at the regional level but also at the global level. This enables Abu Dhabi to be a regional hub for the ICT sector, attracting the world's leading IT companies, adding that Michael J. Saylor's visit underscores Abu Dhabi's leading position in this field.
"Abu Dhabi is leading the way in digital transformation and innovation in the 21st century" said Mr. Saylor. "MicroStrategy is honored to work with ADSIC and serve as the enterprise analytics and mobility partner to both public and private enterprises throughout the Emirate."
Home
>>
Government, Legal & Humanity Section