Home
>>
Government, Legal & Humanity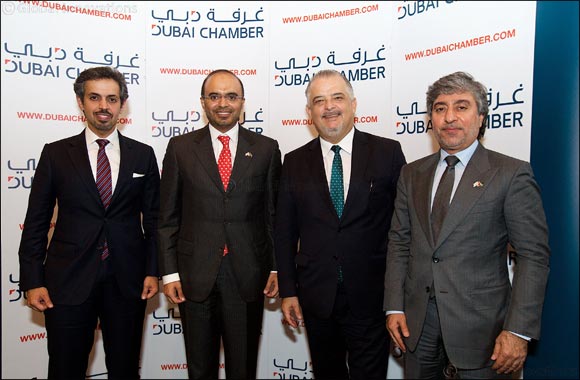 Dubai Chamber opens eighth representative office in Brazil
São Paulo office is the Chamber's first within Latin America
Office will aim to boost trade and investment flows between Dubai and Latin America
H.E. Al Ghurair: Office opening falls in line with the Chamber's international expansion plans and efforts to enhance economic cooperation with promising markets
H.E. Buamim: This move demonstrates Chamber's strong commitment to expanding trade ties between Dubai-based businesses and their Latin American counterparts
Brazil is Dubai's top trading partner in Latin America with bilateral trade valued at AED 6 billion in 2016
Dubai's non-oil trade with Latin America reached AED 17.4 billion in 2016, a 29% growth rate compared to AED 13.5 billion in 2010
Dubai, UAE, April 18, 2017: The Dubai Chamber of Commerce and Industry announced on Monday (April 17th) the opening of its eighth representative office in São Paulo, Brazil, which will serve Latin America and aim to boost trade and investment flows between the region and Dubai.
The announcement came during a meeting between São Paulo state Vice-Governor H.E. Marcio França, Dubai Chamber officials, and a delegation of leading UAE businessmen who are visiting the country as part of a high-level trade mission that the Chamber is leading this week to Latin America.
The new office, Dubai Chamber's first within Latin America, will assist Dubai-based companies that want to enter the region. It will support the Chamber's efforts to promote Dubai as an attractive trade and investment hub within the region, and attract Latin American companies that plan to trade with the emirate or use it as a hub to access markets in the GCC, Africa and Asia.
H.E. Majid Saif Al Ghurair, Chairman of Dubai Chamber, said the opening of the new office falls in line with the Chamber's strategic plans to expand its international presence and enhance economic cooperation with promising markets around the world. He noted that Dubai's increased focus on Latin America began with the visit of H.H. Sheikh Mohammed Bin Rashid Al Maktoum, Vice President and Prime Minister of the UAE and Ruler of Dubai, to the region in 2014.
Dubai Chamber's Chairman thanked the UAE Consulate in São Paulo for its support in organising the trade mission, and lauded efforts by the UAE's Ministry of Foreign Affairs to contribute toward the global aspirations of the country's private sector.
Following the announcement, H.E. Hamad Buamim, President and CEO of Dubai Chamber, described the office opening as "a strategic decision" for the organisation as it will help build bridges between business communities on both sides.
"This is a very important moment for us, because it will be our first office in Latin America. Establishing a presence here demonstrates the Chamber's strong commitment to expanding trade ties between Dubai-based businesses and their Latin American counterparts," said H.E. Buamim.
Dubai Chamber's President and CEO explained that Brazil is the ideal location for the office as the country is Dubai's top trading partner within Latin America. Non-oil trade between Brazil and Dubai amounted to AED 6 billion in 2016, accounting for more than a third of the emirate's total non-oil trade with the region. He added that the new office in Brazil would aim to increase the value and scope of bilateral trade in the years to come.
Dubai's non-oil trade with Latin America reached AED 17.4 billion in 2016, marking a 29% growth rate compared to AED 13.5 billion in 2010. A total of 54 Brazilian companies are currently registered with Dubai Chamber, H.E. Buamim revealed, accounting for 29% of all Latin American member companies operating in Dubai.
During the meeting, H.E. França praised Dubai Chamber's decision to open the office, and said that it would greatly assist Brazilian companies expand globally, adding that he would offer all necessary support to make the new office a success.
São Paulo's Vice-Governor noted that Brazil has a lot to offer foreign businesses and investors as a resource-rich country with plenty of opportunities in various sectors, including agriculture, industry, technology, tourism, real estate and other areas. He added that São Paulo has invested 15% of its gross domestic product (GDP) in education, research and development.
Addressing the UAE delegation, Sérgio Costa, Director of Investe São Paulo, provided an overview of São Paulo's economy, as well as its key growth sectors, which include agriculture, manufacturing, aerospace and pharmaceuticals. He said the state of São Paulo is an ideal market for foreign investors as it contributes around 32% to Brazil's GDP and accounts for 25% of all exports from the country. He noted that Brazil remains the world's top producer of sugar, sugarcane, and orange juice, while it's also home to the third-largest aircraft manufacturer in the world.
Costa added that São Paulo accounts for 44% of Brazil's total production of household appliances, while it also manufacturers 49% all vehicles and 71% of all pharmaceutical products in the country.
The trade mission to Latin America is part of the Chamber's Global Business Forum series roadshow, which also covers Paraguay and Argentina. The roadshow is promoting the 2nd Global Business Forum on Latin America, which is set to be held in Dubai next year.
Home
>>
Government, Legal & Humanity Section