Home
>>
Shipping and Logistic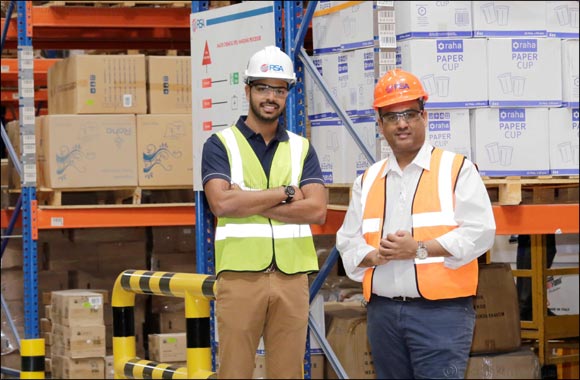 Panache International partners with RSA Logistics for HORECA operations and management
RSA Logistics will now provide complete logistical solutions for Panache International's operations in the Middle East
Dubai, United Arab Emirates, April 24, 2017: Panache International, a pioneer in the disposables sector with a history of quality disposables manufacturing and excellent consumer care, partners with supply chain specialists RSA Logistics for a complete supply chain solution. Panache International will now be hosting its logistics on servers provided by RSA Logistics for360-degree supply chain solutions including contract logistics, transportation, distribution, and international freight, with processes tailored as per the different client requirements across the region.
The CEO of Panache International, Vishaal Shah, and the MD of RSA Logistics, Abhishek Ajay Shah are Endeavor Entrepreneur's. Endeavor, a non-profit global organization, selects high impact entrepreneurs that look to scale and multiply the effect of their business in the eco-system around them.
Panache International produces premier hospitality-oriented range, Raha, and its heavy-duty elegant tableware, Mozaik, which are not only available in the consumer sector, but also cater to the Emaar Hospitality Group, DusitThani Hotels, Kempinski Hotels, and Fairmont Hotels, as well as restaurants and cafes including Organic Foods & Café, Papa John's and PappaRoti.
In tow with its dedication to excellence in customer service, Panache International now tracks and sorts its logistics with the masterminding services sourced from multi-award winning third party logistics provider, RSA Logistics. RSA Logistics is known for its expertise with packaged foods and packaging solutions management, and its 3PL services have bagged many awards, including the recent Gulf Customer Experience Award and the Middle East HR Excellence Awards, 2016.
Vishaal Shah, CEO of Panache International said, "As we have experienced tremendous growth, with our outreach in Union Coop Supermarkets and select Carrefour Stores, and our own retail store in Sharjah as well as our distribution chains to the F&B industry, the need for third-party management has arisen, and we could not trust anybody to do this job better than RSA Logistics, who have already supported our logistical needs for the past several years. We are looking at a long and efficient partnership with them, and hope that our operations run with the same Panache quality the region has known and trusted."
Abhishek Ajay Shah, Co-Founder and MD, RSA Logistics, said, "The vision and the ambition of the team at Panache is what makes it exciting for a solution provider such as ourselves to enable and facilitate business growth for our customers. The rate of growth displayed by Panache is something that enables us to ensure our systems, technology and processes are continually challenged to optimize cost and efficiency for us and our customers. We are excited to be apart of this journey and look forward to a long and multi-region relationship with the Panache team.
Home
>>
Shipping and Logistic Section