Home
>>
Technology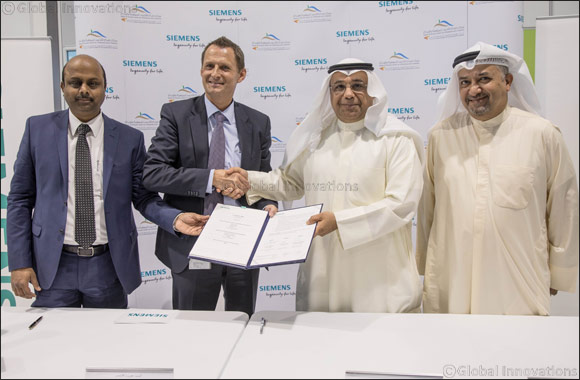 Siemens partners with SACGC to boost industrial technology skills in Kuwait
Vocational education for industrial automation, digitalization and plant technology
Knowledge transfer in line with Kuwait's plans to grow industrial capability
Dubai, UAE, May 16: 2017: Siemens has partnered with the Sabah Al Ahmad Centre for Giftedness and Creativity (SACGC) founded by Kuwait Foundation for Advancement of Sciences in Kuwait to provide vocational training in industrial automation, in support of a strengthened industrial sector. The partnership will see Siemens make available to Kuwaitis its SITRAIN training courses in automation, drives and plant technology, promoting knowledge and technology transfer and developing local talent.
"As Kuwait works towards its 2035 vision and greater industrialization and digitalization, it is important to make available the skills, knowledge and technology required to realize the full potential of local talent," said Herbert Klausner, CEO, Siemens in Kuwait. "We recognize that people are a country's greatest asset, and we're proud to be working with SACGC to support an education system which promotes innovation, research and technology in pursuit of an increasingly industrialized, knowledge-based economy."
The partnership seeks to attract universities, applied science and technology institutes in addition to relevant engineers from ministries, oil companies, factories and entrepreneurs.
Dr. Omar Abdul Khaleq Al Bannai, General Manager, Sabah Al Ahmad Center for Giftedness and Creativity said: "The signing of the mutual cooperation agreement with Siemens allows us to achieve our common goals such as promoting a culture of creativity, expertise and knowledge exchange in the industrial and technological landscape. The agreement also aims to change the community's perception of industry by providing an inspiring environment, such as the industrial workshop at the Talent Academy."
"The mutual cooperation agreement with Siemens is an indication of the company's role in contributing to the development of Kuwaiti society, through supporting youth and investing in their potential to help them become the future of a technologically advanced industrial sector," Al Bannai added.
Siemens will conduct the certified technology training programs at the SACGC training facilities in Sharq, Kuwait City. The Academy is fully equipped with the latest teaching and industrial aids and is supervised by dedicated coaches specializing in industrial technology. The course content will be continually evaluated to take into account the latest technological developments and the country's needs, and are open for both the public and current students of SACGC to apply.
The partnership is in line with Kuwait's national development plan, which includes emphasis on developing increasingly automated, digitalized industrial capability as part of its roadmap towards greater economic diversification. It is the latest in a series of collaborations between Siemens and educational institutions in Kuwait, which aim to provide young Kuwaiti professionals with the skills and knowledge required to build a knowledge economy for the country's future.
SITRAIN courses from the Siemens training program encompass the full spectrum of Siemens products and systems for industry, and are available in more than 60 countries.
Home
>>
Technology Section