Home
>>
Fashion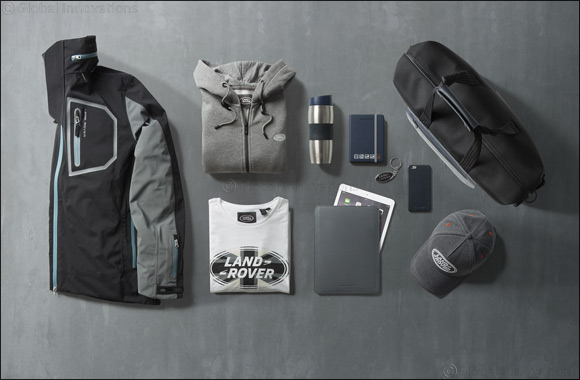 Stunning New Collections from Jaguar and Land Rover
• Jaguar and Land Rover announce new merchandise collections for 2017 available through Jaguar and Land Rover retailers across the MENA Region
• Extensive range of children's clothing and accessories, perfect as Ramadan and Eid gifts
• New Jaguar Heritage Collection inspired by the brand's famous victory at the 1963 12 Hours of Sebring in the iconic No.23 Lightweight E-type
• Land Rover's 2017 Heritage Collection draws inspiration from the celebrated Range Rover crews that crossed the infamous Darién Gap
Dubai, May 17, 2017: Jaguar and Land Rover have launched their premium lifestyle ranges of clothing and merchandise for 2017, including two all-new Heritage Collections inspired by iconic cars of the past.
Both Collections have been carefully designed and selected with the same meticulous attention to detail that goes into designing and developing its range of vehicles.
Overseen by Design Directors Gerry McGovern and Ian Callum, the brand DNA runs throughout the Collections in the same way as it does the vehicles themselves.
The 2017 Jaguar and Land Rover Collections feature an extended range of new products, including 2-in-1 waterproof jackets, new T-shirt styles and designs for men, women and children, high-quality leather phone and tablet cases, an all-new luggage set, a new chronograph watch and a significantly enhanced range of children's products including sweatshirts, hoodies, caps, books, toys, rucksacks, pencil cases and lunch boxes, not forgetting of course Adventure Bear, offering up perfect ideas for Ramadan and Eid gifts. Additionally an extended range of replica car models from the Jaguar and Land Rover families are also available.
Hannah Naji, Brand Director for Jaguar Land Rover MENA says: 'The Jaguar and Land Rover Collections combine exceptional design and originality with outstanding quality. In addition to a stunning range of heritage-inspired products, we have also created new core and lifestyle ranges which continue to be stylish and relevant for all the family.'
Land Rover Collection highlights
Land Rover's Heritage Collection epitomises the brand's adventurous spirit and the designers of this new Collection have drawn inspiration from the two Range Rover crews that conquered the Americas in 1971, which included the infamous Darién Gap expedition.
The Land Rover Heritage Collection is a premium range of clothing, gifts and accessories, inspired by the all-conquering spirit of perseverance. The navy and gold colours of those original Range Rovers stand out across the Collection, while technical graphics, route map designs and accounts of the Darién Gap crossing bring the legendary British trans-Americas expedition to life.
One highlight in the new Land Rover Collection is the Heritage Trunk. Made in collaboration with renowned luxury luggage makers, Globe-Trotter, this sturdy case has Tan leather handles and straps with a printed cotton weave interior displaying the Overland Expedition route map.
Jaguar Collection highlights
In 1963, a legend was born in the form of the Jaguar Lightweight E-type, which experienced huge success on the race track. Only 12 of these stunning race cars were manufactured, and one of these cars was to achieve legendary status at a famed race in Florida, USA – the 12 Hours of Sebring.
Driven by Ed Leslie and Frank Morrill, the No.23 Lightweight E-type, painted in Old English White and featuring bold red and blue stripes, crossed the line in first place in the GT4 Class. Number 23's victory is still celebrated decades later and now it is immortalised in the 2017 Jaguar Heritage Collection.
The Jaguar Collection designers have taken inspiration from the Lightweight E-type for its exclusive range of luxury clothing, accessories and collectibles. One such collectible is a set of three, stainless steel Bottle Stoppers, which feature a range of gear knob designs.
For the discerning Jaguar customer, a leather lined Valet Box has been developed to keep valuable accessories organised in style. With multiple storage compartments it contains space for four watches and a tray for securely storing cufflinks.
Home
>>
Fashion Section