Home
>>
Events & Exhibitions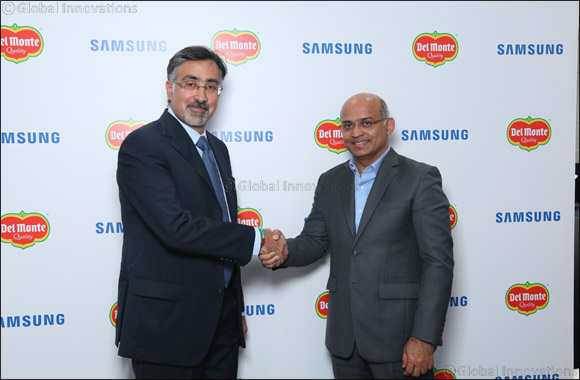 Fresh Del Monte and Samsung Partner to Promote Healthy Living
Dubai, United Arab Emirates – 17 May 2017: Samsung Gulf Electronics and Fresh Del Monte announced today their partnership during an exclusive media event at Samsung's brand shop in Dubai Media City.
The partnership is not only an exciting collaboration where the two brands come together to promote healthy living and eating, but also to spread awareness on how to reduce food wastage with the Samsung Twin Cooling Plus refrigerator. During the event, Fresh Del Monte's appointed Chef and Nutritionist discussed simple cooking and nutrition tips and tricks for a healthier eating habit. The experts also highlighted how to cut down on food wastage.
"Our partnership with Fresh Del Monte marks a significant day for Samsung. We at Samsung are committed and believe in enabling people's lifestyles through our innovation and our collaboration with Fresh Del Monte further enhances our belief of promoting a healthier lifestyle, especially during Ramadan. The insights from Fresh Del Monte's Chef and Nutritionist bring to life the technology of the Twin Cooling Plus, shedding the light on how food can be better stored and put to use naturally cutting down on wasting food. We look forward to our collaboration with Fresh Del Monte to spread the word of a healthy lifestyle" said Mr. Vinod Nair, Head of Home Appliances Division at Samsung Gulf Electronics.
"It's a common vision that brought together Fresh Del Monte and Samsung - promoting healthier eating habits and reducing food wastage. Our customers now have a solution to store their fresh produce in an environment that maintains its nutritious benefits," Said Mr. Mohammed Abbas, Regional Vice President MENA at Fresh Del Monte.
This partnership demonstrates how 2 experts in their own fields (Del Monte and Samsung) combine their efforts in providing solutions for healthy eating.
Home
>>
Events & Exhibitions Section