Home
>>
Home, Furniture and Interiors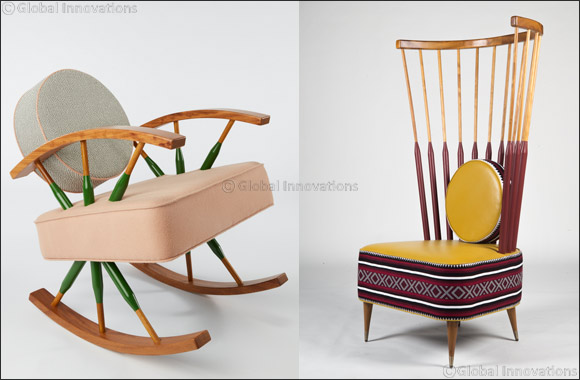 Dubai Design & Fashion Council Supports Local Design Talent at INDEX Design Series 2017
Endorsed by DDFC, the 27th edition of the MENA region's biggest interiors exhibition will showcase innovative design works by emerging local talent as part of Tanween by Tashkeel
Dubai, 21st May 2017: Aligned with its mandate to support regional and local talent, the Dubai Design & Fashion Council (DDFC) announces its participation in INDEX Design Series, featuring innovative, relevant, desirable and functional design projects as part of the Tanween programme by Tashkeel. The Middle East & North Africa's prime interiors show will bring together 40,000 interior designers, suppliers, architects and project managers to Dubai from 22 – 25 May 2017 at the Dubai World Trade Centre.
Fostering an environment to produce and nurture future industry leaders and entrepreneurs, the DDFC space will host innovative design works by local talent as part of Tanween by Tashkeel, an intensive development programme for emerging designers working in the UAE. The programme is structured and founded on four core attitudes, parameters and values: empathy to people, objects and environments; a focus on skills, materials and production processes innate to the region; an intention to trigger cross-cultural dialogues and experimentation; and an insistence on authenticity and rigor in both design and production.
The designs exemplify a brand born of exhaustive and experimental learning, reflecting the rapidly developing contemporary UAE design scene and drawing on the diversity of design programming at Tashkeel. On display will be works by Hamza Omari, Lujaine Rezk, Studio MUJU, Rand Abdul Jabbar, Zeinab Al Hashemi, and Zuleika Penniman.
Jazia Aldhanhani, CEO of DDFC commented, "We are pleased to extend our support to INDEX Design Series this year. We are actively committed to promoting local talent and creativity in Dubai; INDEX undoubtedly presents the ideal platform for this, optimizing the exposure of the immense talent in the region while providing vital opportunities to network with key leaders in Dubai's rapidly evolving contemporary design scene. This year, we are proud to be partnering with Tashkeel to present a selection of designers who are part of the Tanween programme. We look forward to continuing our collaboration to nurture new ideas and solutions, and embark on an exciting path to transform Dubai into a global design destination."
Jill Hoyle, Tashkeel Manager, added, "Tashkeel is delighted to partner with DDFC this year as part of INDEX Design Series. This collaboration is consistent with Tanween's philosophy of fueling cultural and economic development while encouraging and enabling dialogue within the local design, craft and manufacturing community. INDEX Design Series is a notable industry event and we are thrilled to have our designers showcased at the DDFC space."
The 27th edition of INDEX will focus on "Design for the Senses", bristling with fully-immersive experiences allowing guests to see, hear, feel, smell and even taste their way around the show and aims to offer interior designers, architects and procurers the ultimate creative platform on which to network and source some of the finest furniture and décor found anywhere in the world.
Home
>>
Home, Furniture and Interiors Section