Home
>>
Healthcare & Medicine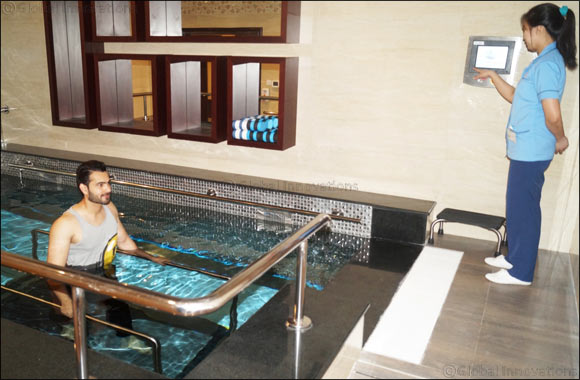 RAK Hospital introduces innovative Aqua therapies for faster healing
Patients with Cardiac, Respiratory, Musculoskeletal, Athletic, Arthritis and Geriatrics issue to benefit with individualized rehab programs
Hydrotherapy to relieve pain, promote relaxation, mobilise joints, strengthen muscles, develop balance and coordination, and improve general fitness
8th August 2017;Ras Al Khaimah, UAE: Bringing in innovative concepts and techniques to healthcare, RAK Hospital through its Physiotherapy and Rehabilitation department has now introduced unique aqua therapies as a major rehabilitation technique for people of all ages ranging from pediatric to the elderly. People suffering with conditions such as osteoarthritis, muscular & joint injury or fracture, lower back and neck pain, cerebral palsy, as well as victims of strokes or accidents and pre & post-surgery patients can benefit from Hydrotherapy. Hospital's highly professional Swissphysio team works on holistic health with a passion for excellence to ensure patient's total wellbeing.
"Hydrotherapy can be a great way to have fun while recovering from an injury. Water has a well-deserved reputation for healing and aqua rehab allows patients to move more quickly through the system without compromising outcomes. Because it is relatively pain-free, patients are more compliant. The natural properties of water help to speed up recovery, minimize the loss of range of motion (especially important when the injury is located in a joint), increase blood circulation and decrease inflammation", said Dr Jean Marc Gauer, CEO, RAK Hospital.
"The physical principles of water help to make hydrotherapy such a beneficial method of rehabilitation. Being in the water allows you to float, taking pressure off your joints. You can also use the water as a form of resistance while doing exercises. The temperature and pressure of the water can be comforting for an injured area to help control swelling and pain. Hydrotherapy can help with many different types of rehabilitation such as Cardiac Rehab, Respiratory Rehab, Musculoskeletal Rehab, Athletic Rehab, Arthritis and Geriatrics. Moreover, our personalized physiotherapy programs designed keeping in mind the patient's individual requirements and condition bring in greater benefits", said Ms. Cornelia Gloor – Head of Department, Physiotherapy and Rehabilitation at RAK Hospital.
"With the use of our unique Rehab services, the patients in UAE now have access to the best in class, right here closer to home, without the need to travel abroad. While the serene surroundings of Ras Al Khaimah and healing environment of our hospital always aid in quicker recovery. The rehab is aimed at reducing pain, improving strength, balance, coordination and movement while maximizing your ability to participate in everyday activities, prevent complications and promote good health", said Dr. Raza Siddiqui, Executive Director of RAK Hospital.
RAK Hospital treats a variety of conditions and work with all kinds of patients. Some of the services offered include rehabilitation for sports injury cases, spinal injury cases, joint pathologies, post-surgical rehabilitation and rehabilitation of neurology cases.
Aquatic Physiotherapy treatment incorporates individual assessment, diagnosis and the use of clinical reasoning skills to formulate a treatment program appropriate to each patient's needs. It can help relieve pain, promote relaxation, mobilise joints, strengthen muscles, develop balance and coordination, and improve general fitness.
The therapeutic benefits of Hydrotherapy & exercise in warm water include:
Muscular relaxation and decreased muscle spasm.
Decreased pain due to warmth and support.
Gravity is countered by buoyancy.
Increased muscle strength and endurance due to the greater resistance in water.
Improvement in swelling, due to hydrostatic pressure.
Enhanced balance and stabilisation.
Improved enjoyment and confidence to move better.
Home
>>
Healthcare & Medicine Section