Home
>>
Government, Legal & Humanity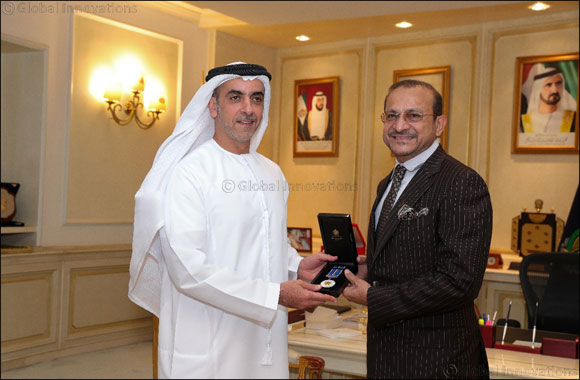 HH Sheikh Saif Bin Zayed honors one of the largest donors to the Faraj Fund
Firoz Merchant donated AED 15 Million till date
Dubai, UAE; August 08, 2017: Lt. General HH Sheikh Saif bin Zayed Al Nahyan, Deputy Prime Minister and Minister of Interior of the UAE honored Firoz Merchant, a Dubai based Indian businessman, who is one of the main donors to the Faraj Fund. The ceremony took place at the Ministry of Interior headquarters. This award is an acknowledgment for Merchant's work and efforts to help insolvent prisoners and their families in the UAE through his donation of AED 15 million till date to the Faraj Fund.
Merchant received the 'Community Service Medal' for his philanthropic efforts in supporting the Faraj Fund during 'The Year of Giving'. Merchant's humanitarian work resulted in releasing many indebted prisoners and bringing happiness and joy to their families.
Since 2008, Firoz Merchant has donated AED 15 million to the Faraj Fund to help settle the debt or pay air fares for insolvent prisoners from various nationalities in UAE jails.
The ceremony was attended by Lt. General Saif Abdullah Al Shafar, Undersecretary of the Ministry of Interior; Major General Rashid Thani Al Matroushi, Acting Director General of UAE Civil Defence; and Brigadier Mohammad Humaid Bin Dalmouj Al Dhaheri, Acting Secretary-General of the Office of the Deputy Prime Minister and Minister of Interior; as well as other Ministry of Interior officers.
Merchant dedicated the award and medal to his countrymen in the UAE and other countries, "I am sincerely thankful to the UAE government for acknowledging my efforts. Whatever I have done, and will continue to do, is for the love of the UAE and India. I represent my country India; and the UAE is my second home. I will do whatever I can for this beautiful country and its people."
Home
>>
Government, Legal & Humanity Section