Home
>>
Real Estate & Retail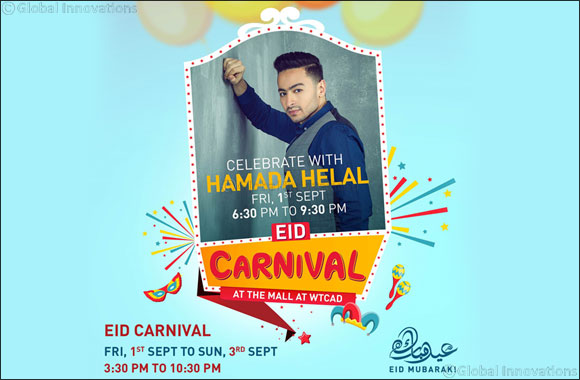 The Mall at World Trade Center Abu Dhabi announces its biggest surprise for Eid Al Adha
Famous Arabic singer and actor Hamada Helal to give an enjoyable performance to kids at Eid Al Adha Carnival
Abu Dhabi, 23 August 2016: Famous and loved Arabic singer and actor Hamada Helal is confirmed to give an enjoyable performance with his famous kids' songs at the first day of Eid Al Adha. The announcement was made today by The Mall at World Trade Centre Abu Dhabi (WTCAD), as part of its Eid Carnival celebrations.
The Mall at WTCAD has announced earlier that it's hosting the biggest first of its kind Eid Carnival during the three days of Eid Al Adha, from 1-3 September 2017, with many extravagant activities and events, giving its visitors a wonderful chance to celebrate Eid Al Adha in an unforgettable festivities ambiances and experience.
Hamada Helal is going to give his performance at the first day of The Mall Eid Carnival, 1st September 2017 at 7.00pm followed by meet and greet with his fans.
Hamada Helal's most impressive musical feat to date is the song he wrote to children's television icon and absorbent rectangle, Sponge-Bob Square-Pants, titled 'Spong Bob'.
The Arabic singer's famous albums include 'Dar El Zaman', 'Demoua', and 'Bakhaf'. Hamada made his first cinematic appearance in the movie 'Eyal Habiba' and stared as a main actor in many movies including: 'El3eyal Herbet', 'El Hob Keda' and 'Helm el Omr'.
With this incredible unique mix of shows and activities spread across three days during Eid Al Adha Carnival, The Mall at World Trade Centre Abu Dhabi promises its visitors the ultimate celebrations of Eid Al Adha.
Home
>>
Real Estate & Retail Section