Home
>>
Education & Training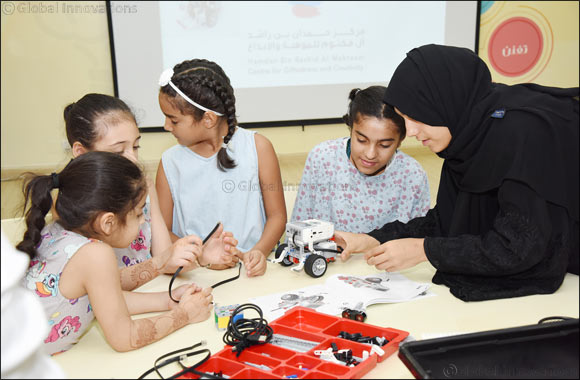 Children of Awqaf and Minors Affairs Foundation Develop Skills in Robotics at Training Workshop
Knowledge session hosted by Hamdan bin Rashid Al Maktoum Center for Giftedness & Creativity
Dubai-UAE: 11 September 2017: In line with the UAE Year of Giving, Awqaf and Minors Affairs Foundation (AMAF) announced that 25 of the children under its care attended a training workshop organized by the Students of Hamdan bin Rashid Al Maktoum Center for Giftedness & Creativity in Dubai.
The workshop focused on the theoretical and practical applications of robots, their importance in the world we live in, and their possible future roles. Participants were also introduced to the latest innovations in the manufacturing, designing and programming of robots.
The training workshop helped enhance children's awareness and understanding of the important role they play in society and explained how they could develop their skills and knowledge in the dynamic field of Robotics. Following the workshop, participants received gifts from the Center's management as a token of appreciation.
His Excellency Tayeb Al-Rais, Secretary General of AMAF, said: "Our digitized world is fast-evolving and offers a myriad ideas, concepts and technologies that will change the way we live in the future. We need to prepare and equip a new generation with the necessary skills and knowledge to understand the changes and integrate innovations and processes that will help shape the future."
He added: "This initiative by the Hamdan bin Rashid Al Maktoum Center for Giftedness & Creativity is especially significant as it allows our minors to identify their own latent creative talent that can eventually contribute to advancing the UAE's scientific journey."
Zainab Jumaa Al Tamimi, Deputy Director of Minors Affairs at AMAF said: "AMAF's orphans and minors are skilled in many fields, such as science, literature, art and sports. With careful nurturing, they can grow their capacities and utilize them for the greater benefit of society."
For her part, Mariam Alghawi, Director of the Gifted Welfare Department at the Hamdan Bin Rashid Al Maktoum Educational Award, said: "Discovering and supporting Emirati talent is the primary goal of the Hamdan bin Rashid Al Maktoum Center for Giftedness & Creativity. Through investing in building their skills, we are confident we will see several innovative solutions come to light that offer a better future for new generations."
She added: "We are pleased to share that the Center has achieved many milestones within a short period, lately winning the bronze medal in the Robotics World Championship 2017 that was held in Washington, D.C. It also won the first prize in the UAE at the First Lego League UAE organized by the Ministry of Education in partnership with Abu Dhabi Education Council, that required teams to design, build and program robots."
Home
>>
Education & Training Section