Home
>>
Food Industry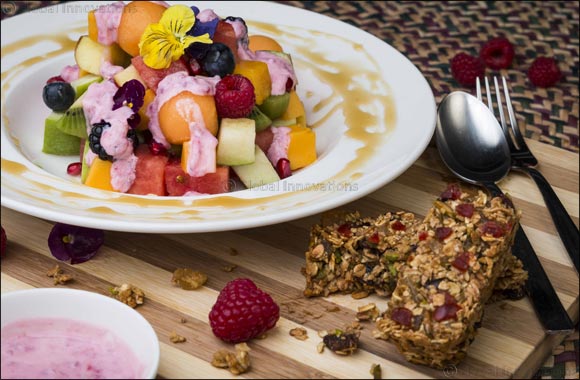 Mama Tani Café introduces its fitness menu in conjunction with the Dubai Fitness Challenge
In conjunction with Dubai Fitness Challenge, Mama Tani, an Emirati cuisine Café introduces its fitness menu from October 20
The Dubai Fitness Challenge is a city initiative of His Highness Sheikh Hamdan Bin Mohammed Bin Rashid Al Maktoum, Crown Prince of Dubai and Chairman of the Executive Council for Dubai Government to make Dubai the most active city in the world with 30 minutes of daily activity for 30 days
Mama Tani Café is located at Sheikh Mohammed Bin Rashid Boulevard, Downtown, Dubai
Dubai, United Arab Emirates, 22 October 2017: Mama Tani, the Emirati Café located in the heart of Sheikh Mohammed Bin Rashid Boulevard, introduces a fitness menu in line with The Dubai Fitness Challenge, a city initiative by His Highness Sheikh Hamdan Bin Mohammed Bin Rashid Al Maktoum, Crown Prince of Dubai and Chairman of the Executive Council for Dubai Government. The menu offers food with ingredients that are healthy and nutritious for the body.
Aimed at making Dubai the most active city in the world by committing 30 minutes of daily activity, Mama Tani Café hosts a variety of healthy items on its new fitness menu. For starters one can enjoy the Harira soup made with lamb chunks, coriander leaves, green lentils, parsley, carrot, tomato and other fresh vegetables. The main course has scrumptious dishes such as Quinoa Biryani with lamb chunks, green lentils, fresh coriander, parsley, vermicelli and egg served on Khameer Bread Bowl. Other healthy options include a colourful chickpeas salad with sweet cherry tomatoes, bell peppers, red onion, fresh coriander and parsley topped with a mango tamarind dressing. The Date and Walnut celery salad is infused with a mix of fresh green leaves, dates, toast walnut, feta cheese. The menu also has healthy options for drinks like the Almond Cinnamon and Pineapple Cinnamon.
The fitness menu is made keeping in mind The Fitness Challenge and to promote a healthier living among the residents of Dubai. One can avail a 15 % discount on presenting the Dubai Fitness Challenge app at the restaurant.
Mama Tani, meaning 'Second Mother', is reminiscent of the traditional, fresh and delicious food prepared by one's Grandmother or any special person in one's life who serves advise and plates of treats hot and with love. It is a beautiful medley of traditional herbs, spices, sweets and savory treats along with a refreshingly contemporary setting, including free to use WiFi.
Speaking on the launch of the fitness menu, Maitha Al Shamsi, Founder, Mama Tani, said, "In line with the Dubai Fitness Challenge, an initiative by the Crown Prince of Dubai, we at Mama Tani, aim to serve healthy Emirati food for a healthy living. With the stressful routine, people often ignore their health which results in being unfit. A healthy lifestyle not only pertains to exercises and workouts but also to eating the right food. With The Dubai Fitness Challenge we welcome all to try the authentic Emirati cuisine at Mama Tani Café that reflects the culture of UAE. The menu hosts healthy dishes from salads to biryanis to drinks catering to different taste buds. A customer can also avail a 15% discount on presenting the Dubai Fitness Challenge app at the café."
The fitness menu at Mama Tani Café is available from October 20 and will offer a 15 % discount on showing the Dubai Fitness Challenge app.
Home
>>
Food Industry Section