Home
>>
Entertainment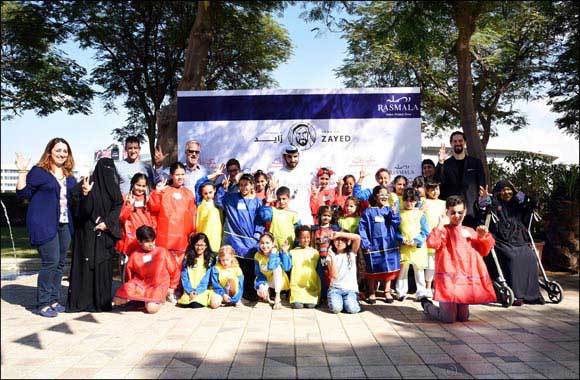 Awqaf and Minors Affairs Foundation with Rasmala Partners for 'Year of Zayed' Art Workshop
Dubai-UAE: 23 December 2017 - Awqaf and Minors Affairs (AMAF), the Dubai Government entity responsible for minors affairs organised an art workshop for 25 minors in partnership with Rasmala Investment Bank Limited (RIBL), the asset management subsidiary of Rasmala Group,
The workshop that heralded the UAE's upcoming 'Year of Zayed', was held at the 'Reading is Positive Energy' exhibition space at Zabeel Park, and was designed to unleash the creative and artistic skills of the minors through giving them a chance to express their love and admiration for their country and for the founding father of the UAE, late Sheikh Zayed bin Sultan Al Nahyan.
Led by the UAE based artist Diaa Allam, founder of Na7t Design, the workshop allowed the minors free reign of their imagination through actively engaging them in drawing and painting. Selected artworks will be included in the Rasmala and AMAF 2018 annual calendar.
His Excellency Tayeb Al-Rais, Secretary General of AMAF, said: "This initiative was a celebration of the vision and leadership of our founding father, and aimed to instill the value of patriotism and sense of belonging in our youth. Art is a key component of a child's upbringing that influences the formation of their mindsets and attitude. Allegiance to the nation and its leaders, is an essential part of our identity as Emiratis. At AMAF, we are pleased to partner with private and public sector organisations and leverage best-in-class education methodologies to ensure our minors grow into righteous citizens with an unwavering loyalty to our beloved country and its wise leadership."
He added: "Sheikh Zayed was more than a founder and a leader, he was a great man whose legacy can never be forgotten. His achievements transcended the establishment of the UAE federation, and he played a pivotal role in laying the foundation of our nation's progress. Through our partnership with Rasmala plc and like-minded entities, we seek to carry forward the legacy of Sheikh Zayed and remind future generations of his visionary thinking and belief system."
For his part, Zak Hydari, Chief Executive of Rasmala Group, said: "We are very pleased to partner with AMAF to support its excellent work in caring for the least privileged segments of society. The Foundation's efforts reflect the spirit of generosity and kindness that the late Sheikh Zayed embodied. Organising an initiative for AMAF's minors was gratifying and represented our small way of repaying its humanitarian services to our community."
The year 2018 marks 100 years since the birth of the founding father of the UAE, late Sheikh Zayed bin Sultan Al Nahyan. The UAE President His Highness Sheikh Khalifa bin Zayed Al Nahyan, has declared that 2018 will be celebrated as the Year of Zayed in the UAE. In line with this decision, His Highness Sheikh Mohammed bin Rashid Al Maktoum, Vice President and Prime Minister of the UAE and Ruler of Dubai, called on public and private sector organisations to share Sheikh Zayed's message of inclusion and peace through their initiatives during the year.
Home
>>
Entertainment Section