Home
>>
Entertainment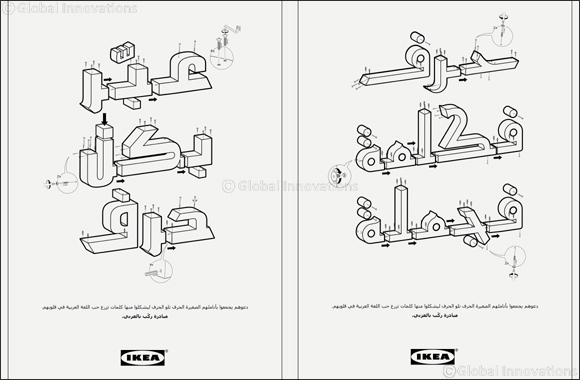 IKEA Introduces 'arabic Reassembled' as Part of Uae Initiative to Spread Love for the Arabic Language
Families are invited to take part at the IKEA Store in Dubai Festival City on 8 January 2018 and at Yas Mall on 11 January 2018
Dubai, UAE, 7th January 2018: IKEA, the much-loved Swedish home furnishing retailer, has designed an initiative named 'Arabic Reassembled' to encourage children to learn and engage with the Arabic language. 68%* of young Arabic-speaking nationals in the GCC confirm they use English more than Arabic, so to support the UAE Government's initiatives, IKEA has designed a fun and creative solution for children, the way it knows best.
During Arab Literacy Day on 8 January, children will be given the chance to assemble 12 different Arabic words using the universally familiar IKEA instruction manual. While making Arabic words that are used daily, children will be able to learn while having fun!
Vinod Jayan, Managing Director – IKEA UAE, Qatar, Egypt and Oman said, "We have been inspired by UAE Government's initiatives to promote the value of the Arabic language amongst Arab-speaking children. We have fused our simple approach to assembly with learning Arabic, giving little ones a fresh and new way to learn. This initiative is aligned with our Let's Play campaign, as we believe in the importance of play for emotional health and wellbeing – and we can't wait to see it in action!"
Participate and be inspired by visiting the self-serve section in-store at Dubai Festival City on 8 January or Yas Mall on 11 January.
Home
>>
Entertainment Section