Home
>>
Entertainment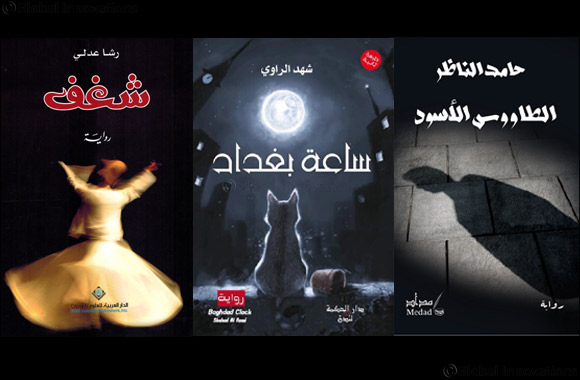 Longlist, judges and dates announced for International Prize for Arabic Fiction 2018
United Arab Emirates, January 17, 2018: The International Prize for Arabic Fiction (IPAF) has today, Wednesday 17 January 2018, revealed the longlist of 16 novels in contention for the 2018 Prize. The novels selected were chosen from 124 entries from 14 countries, all published between July 2016 and June 2017.
The longlist was chosen by a panel of five judges chaired by Jordanian academic, critic, poet, novelist and playwright Ibrahim Al Saafin.
Of the 16 authors chosen, many are recognisable names with three having been shortlisted for the Prize previously – Atef Abu Saif (2015, A Suspended Life); Amir Tag Elsir (2011, The Grub Hunter); and Ibrahim Nasrallah (2009, Time of White Horses). The latter two have also been longlisted and served as mentors on the Prize's Nadwa – an annual writing workshop for talented, emerging writers.
A further five of this year's list have been longlisted before – Fadi Azzam, Antoine Douaihy, Hamed al-Nazir, Taleb al-Refai and Amin Zaoui.
Ahmed Abdel Latif, Rasha Adly, Aziz Mohammed, Amjad Nasser, Shahad Al Rawi, Walid Shurafa, Dima Wannous and Hussein Yassin all make their first appearance on the list.
The two youngest authors on the list, Saudi Arabian author Aziz Mohammed and Iraqi Shahad Al Rawi, are longlisted with their debut novels. Shahad Al Rawi's Baghdad Clock has already been translated into English and is due to be published by Oneworld Publications this year.
The full 2018 longlist, with author names in alphabetical order, is as follows:
| | | | |
| --- | --- | --- | --- |
| Author | Title | Country of origin | Publisher |
| Ahmed Abdel Latif | The Earthen Fortress | Egypt | Dar al-Ain |
| Atef Abu Saif | Christina | Palestine | Al Ahlia |
| Rasha Adly | Passion | Egypt | Arab Scientific Publishers |
| Fadi Azzam | Huddud's House | Syria | Dar al-Adab |
| Antoine Douaihy | The Last Country | Lebanon | Arab Scientific Publishers |
| Amir Tag Elsir | Flowers Consumed by Fire | Sudan | Dar Al Saqi |
| Aziz Mohammed | The Critical Case of 'K' | Saudi Arabia | Dar Tanweer, Lebanon |
| Ibrahim Nasrallah | The Second War of the Dog | Palestine | Arab Scientific Publishers |
| Amjad Nasser | Here is the Rose | Jordan | Dar al-Adab |
| Hamed al-Nazir | The Black Peacock | Sudan | Medad |
| Shahad Al Rawi | Baghdad Clock | Iraq | Dar al-Hikma, London |
| Taleb al-Refai | Al-Najdi | Kuwait | That al-Salasil |
| Walid Shurafa | Heir of the Tombstones | Palestine | Al Ahlia |
| Dima Wannous | The Frightened Ones | Syria | Dar al-Adab |
| Hussein Yassin | Ali, the Story of an Honourable Man | Palestine | Dar al-Ru'aat |
| Amin Zaoui | Leg Over Leg - in the Sighting of the Lovers' Crescent | Algeria | Al-Ikhtilef |
The 2018 judges serving alongside Ibrahim Al Saafin are: Inam Bioud, an Algerian academic, translator, novelist and poet; Jamal Mahjoub, a Sudanese-English writer and novelist; Mahmoud Shukair, a Palestinian short story writer and novelist; and Barbara Skubic, a Slovenian writer and translator.
The 2018 Chair of Judges Ibrahim Al Saafin comments on the longlist:
'The novels on the longlist are thematically and stylistically varied: realistic, fantastical, historical and social, but all in their different ways tackling Arab reality and the challenges faced by Arab societies on political, cultural and human levels, as well as grappling with questions of identity. They bring to life the tragic distortions and dreams of these societies, delving deep into the past to throw light on current issues.'
Professor Yasir Suleiman CBE, Chair of the Board of Trustees, comments:
'The longlist for this year sees the return of writers who appeared on IPAF lists in previous years as well as authors who make their debut for the first time. This combination of talent is a testimony to the enduring value of the Prize as a platform for Arabic literary creativity in its continued effort to grapple with some of the most pressing issues in Arab life. It is this commonality of interest that marks the Arab novel as the voice of our time, whispering in our ears, subtly but boldly, that creativity knows no bounds in its rendition of the human condition in troubled times.'
This is the 11th year IPAF, which is recognised as the leading prize for literary fiction in the Arab world. The shortlist will be announced in February. The winner will be announced at an awards ceremony held at the Fairmont Bab Al Bahr in Abu Dhabi on Tuesday 24 April, the eve of the Abu Dhabi International Book Fair. The six shortlisted finalists will receive $10,000, with a further $50,000 going to the winner.
Last year's winner of the Prize was A Small Death by Mohammed Hasan Alwan.
Fulfilling its ambition to increase the international reach of Arabic fiction, the Prize provides funding for English translation for its winners.
This year will see the publication in English of 2016 winner Rabai al-Madhoun's Destinies: Concerto of the Holocaust and Al Nakba by Hoopoe Fiction, along with 2014 winner Ahmed Saadawi's Frankenstein in Baghdad by Oneworld in the UK and Penguin Books in the US. Other winners already available in English include Baha Taher's Sunset Oasis in 2009 and Youssef Ziedan's Azazeel in 2012. English translations of Abdo Khal's Spewing Sparks as Big as Castles and Mohammed Achaari's The Arch and the Butterfly were published in 2014. Saud Alsanousi's The Bamboo Stalk was published in 2015 and Raja Alem's novel, The Dove's Necklace in 2016.
The International Prize for Arabic Fiction is an annual literary prize for prose fiction in Arabic. It is run with the support, as its mentor, of the Booker Prize Foundation in London and sponsored by the Department of Culture and Tourism – Abu Dhabi (DCT).
Home
>>
Entertainment Section