Home
>>
Entertainment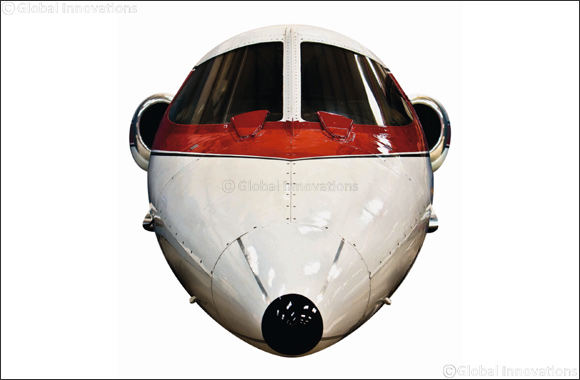 MB&F M.A.D. Gallery presents aeronautical artwork "Nose Art" by French photographer Manolo Chrétien, from 6th of February to 6th of May 2018
The MB&F M.A.D.Gallery takes flight with French photographer Manolo Chrétien and his powerful aeronautical artwork.
The photographs
Dubai, UAE – 10 February, 2018: Acclaimed artist and photographer Manolo Chrétien unearths his deeply rooted passion for aviation in the Nose Art exhibition at the MB&F M.A.D.Gallery, debuting in February 2018. In a powerful yet playful approach, Chrétien captures the essence of famed aircraft nose-to-face as it were. From a luxe 1960s Learjet to the supersonic Concorde jetliner and military vessels like the Dassault Rafale, his images offer a dynamic and unusual dead-on visual perspective. This is further accentuated by the circular cut-out format, which follows the shape of the aircraft's fuselage.
"Nose Art is the natural outcome of ten years' worth of trying to capture planes from a humanistic or animalistic angle, and it is the beginning of a new way of working," explains Chrétien. "It's been in my head for years, since my father woke me up one morning from the air through the window of my second floor bedroom in a helicopter he was testing. I remember it as if it were yesterday: the animal-like cockpit of the Alouette, my father with his Ray Bans smiling inside, motioning to say, 'Time to get out of bed, kids!'"
Each plane has a story to tell, whether this is expressed through corrosion or damage from war: their skin defects reveal the aircraft's souls. Chrétien, for example, was drawn to the Etoile de Suisse ("Star of Switzerland"), one of the first TWA Constellation aircrafts converted for civilian service, during a photography trip to the Sonoran Desert near Tucson, Arizona. A close look at this four-engine, propeller-driven airliner from 1943 revealed thousands of indentations in the aluminium from flying through a torrential hailstorm – a memorable journey for the pilot and one that left the aircraft with tremendous character and a visual chronicle of its history.
The seven photographs in the Nose Art exhibition endow each aircraft with a humanistic personality, as if the faces of the planes were happily smiling or cautiously glaring. Endless interpretations are left to the observer's imagination.
Home
>>
Entertainment Section