Home
>>
Real Estate & Retail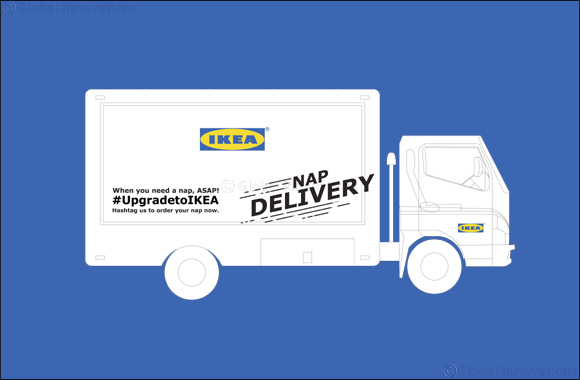 Catch Some Zzz's in the IKEA Nap Truck
IKEA launches a one-of-a-kind 'Nap Truck' for the snoozy public - find the truck and take a power nap as it travels across Dubai, Abu Dhabi and Al Ain from 22 February to 6 March
United Arab Emirates, 21st February 2018: IKEA, the much-loved Swedish retailer, is going out on the road for two weeks to help members of the public catch up on their sleep in the 'IKEA Nap Truck'. Complete with a beautiful bedroom to instil rest and relaxation, sleepy passers-by, visitors and fans of the brand will be able to try this one-of-a-kind mobile sleep experience and take a 20-minute power nap.
According to IKEA's recent survey* one in three people in the UAE believe they miss out on many hours of sleep and if they could, they would take back an equivalent of two and half weeks' worth of sleep a year. In order to help them catch up on their sleep and show how they can upgrade their own bedrooms at home, the IKEA Nap Truck will be touring the city of Dubai, Abu Dhabi and Al Ain every day from 22 February to 6 March.
Date: Every day from Thursday 22nd February to Tuesday 6th March 2018.
Timing: 10:00 – 22:00
Locations:
Dubai: Media City, Barsha, DIFC, Trade Centre, Barsha Heights, Discovery Gardens, Dubai Marina, Mamzar, Deira, Qusais, International City, Business Bay, Al Quoz, Downtown, JLT, JBR, Jumeirah Road, Greens, Sports City and many more.
Abu Dhabi: Khalifa City, Shamkha, Defense Road, Aiport Road, Hamdan Street, Corniche, Emirate Palace, Etihad, Sea Palace, Qasr Al Hosn, Khalifa Highway, Al Reem / Saadiyat Island, and many more.
Al Ain: Zakher, Al Yahar, Al Qatara, Downtown, Safeer Mall Massudi, Al Grayyeh, Castle Park, Jimi, Mazed, Central District, Maqam, Souq Area, Ain Al Fayda Complex, Hili, Al Ain University of Science and Technology and many more.
Home
>>
Real Estate & Retail Section