Home
>>
Lifestyle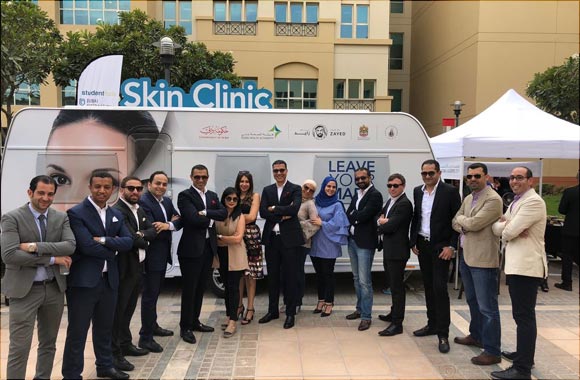 Galderma's "Leave Your Mark" Mobile Clinic heightens awareness of skin diseases amongst youth
Dubai, 22nd February, 2018: Galderma International took another leap forward in science-based skin health solutions with an innovative awareness event featuring a Mobile Clinic to raise awareness of skin problems.
Leave Your Mark is an initiative by Galderma in Partnership with ministry of health and prevention community and Dubai Health Authority as well as the Emirates Dermatology Society. The recently concluded 3-day event, took place from 20th – 22nd February 2018 at Dubai International Academic Society.
Dr.Hesham Abdallah, Galderma Head for ME, Africa, Russia, India and Turkey who was present at the event said "The event represented a strategic step in making our young generation better understand skin problems which in turn will help early detection and timely treatment. The key objective is for our target group to avoid such diseases, develop pride in their skin and leave their mark in their community. The Mobile Clinic is a way of reaching out to communities and thereby intensifies Galderma's efforts at grassroot levels."
The mobile clinic gave students the opportunity to have a free skin consultation and diagnosis by renowned dermatologists who provided them with skin consultations and kits. Skin consultation was conducted in privacy and plans are underway to take the mobile skin clinic to other areas in Dubai to further increase the awareness. The mobile clinic was also equipped with the latest equipment.
"Acne, pimples and other skin problems are known to leave both physical and emotional scars amongst young people. Hence, we teamed up with Galderma to deliver a long-term strategy of sustained skin care with the aim of enhancing the quality of life for youth in the country," said Dr. Anwar Al Hammadi, Consultant and Head of Dermatology at Dubai Health Authority, American and Canadian board certified, and the President of Emirates Dermatology Society
"Through this event we have turned the spotlight on the importance of healthy skin and thereby raise the self-esteem amongst youth. This will inspire them to create an impression in the communities they live in. We believe medical education is central to examining, treating and nourishing skin in any society," added Dr. Al Hammadi who was also present at the event.
Tamer Habiba, Galderma's prescription Business Unit Head for ME pointed out "Skin is the largest organ in the body, healthy skin is a reflection of our wellness, we want to educate our younger generation about Skin problems and help them understand better how to treat it at early stage, in order to be happy and more confident in their own skin. We had excellent support from all the parties; Emirate dermatology Society, Dubai health Authority, ministry of health and prevention community, all the dermatologists who participated in the event; who really deserve appreciation for spending their time and joining us in this initiative"
The interactive event drew a big response from youth and featured a competition for students with attractive prizes and distribution of Goody bags. The mobile clinic will also be present at DUPHAT 2018 – The 23rd Dubai International Pharmaceuticals & Technologies Conference & Exhibition to be held at the Dubai World Trade Centre from 27th February – 1st March 2018.
Home
>>
Lifestyle Section