Home
>>
Banking & Investments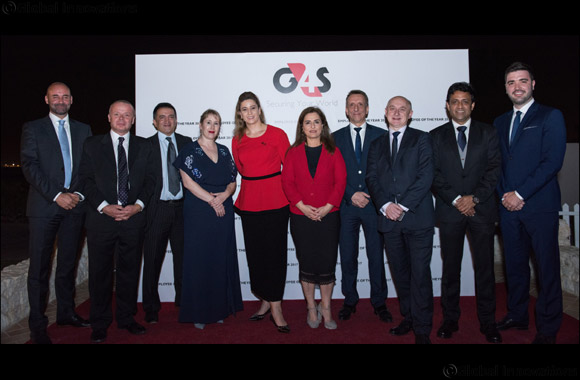 G4S UAE honours outstanding employees at annual awards
Dubai, UAE – February 25, 2018: G4S UAE, the world's leading integrated security solutions provider, held its annual employee award ceremony along with the organization's 24th year celebration in the UAE. The ceremony was held at the Jebel Ali Golf Resort, where employees were honored in eight categories across various business services.
Since its inception in the UAE in 1994, G4S has recognized and honored its employees across various sectors. Nominated by their clients and the G4S awards committee, the organization recognizes talents from their pool of over 10,000 employees. The recognition is in eight different categories – Facility Management, Security Services, Aviation, Cash Management Solution, Security Systems, Best Branch, Support Function, Exceptional Contribution and G4S Special Recognition, which is specifically selected by the CEO for significant contribution and dedication.
Attended by over 300 guests, the nominees were joined by clients, G4S Regional CEO for Europe & Middle East, CEO & MD for G4S UAE and senior directors from across the business to celebrate an extraordinary year of achievements. The ceremony celebrated team and individual successes, efforts, dedication and accomplishments over the past year. The Company that employs one of the largest number of Emirati security experts also honored the team for their exceptional contribution.
Presenting at the ceremony, Ms. Alida Scholtz, CEO and MD, G4S UAE shared a number of milestones achieved; she said "2017 has been an exceptional year for G4S UAE in many ways. We deepened our footprint by securing very high profile portfolios. Every single division in our business gained new customers and accessed new channels reinforcing the strength of our brand and the commitment to excellence in all our service. Unlocking the full potential of our employees is critical to the continued success of our company that could only be achieved through dedication and direction from our leadership team, managers, supervisors and each and every single person taking the time and commitment to strive for excellence in everything that they do."
"The everyday achievement of all our nominees is extraordinary, which makes selecting our final winners very tough for the committee. Having said that all the nominees are winners in their own right and I am proud and privileged to join them here today. We will continue this tradition to honour and reward our employees every year", Scholtz added.
This is the first year G4S is celebrating the Employee of the Year award inviting clients who have been instrumental in nominating their employees.
G4S specializes in Security, cash management solutions, electronic security, facilities management and aviation services, and staffing solutions.
Home
>>
Banking & Investments Section