Home
>>
Fashion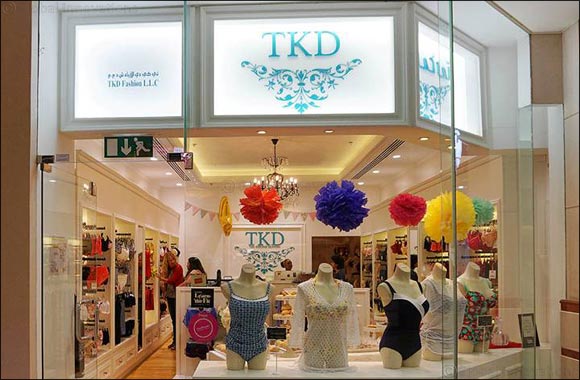 TKD Lingerie celebrates 6th birthday
Dubai, UAE, February 26, 2018: TKD Lingerie, the D-K cup expert, celebrates its sixth birthday this week with a preview of the new Spring collections. The lingerie retailer has seen its sales grow each year since it first opened its doors in 2012 and boasts a spectacular 85% customer retention; an enviable fact attributed to the unrivalled quality of its fitting service.

The new collections for 2018 feature an upbeat Spring blossom theme, in every shade from pretty pastels to racy reds. The beautiful blooms sit side by side with the hottest colour trend of the season; a muted dusty pastel palette of mauve, taupe, slate and the most in-demand shade of the season; pale lavender.

Keeping the finger on the pulse of high fashion is everything. Kate Kikano, owner of TKD Lingerie, explains:

"When we first opened, it was impossible to find fashion forward lingerie in anything larger than a D cup. I remember being pregnant and trawling the malls looking for a new bra, and there was literally nothing in my size. There were a couple of options in nearby sizes, but those were invariably awful, ugly and unflattering. That is one of the reasons I wanted to open TKD Lingerie – to offer fashionable lingerie options to all the women who don't fit into a B cup.

"More than 60% of all women should wear D or a larger cup size, but there is still a lot of confusion in the market about how to find the right size. Many high street stores have a limited size range, so without qualified fitting advice women often try to fit into the sizes that are available instead of getting their perfect size and fit. That's why TKD Lingerie stocks more than 120 different sizes in a wide range of different colours and styles; so that every woman can find the right bra to fit, flatter and support her body."

Collections include fashion forward ranges, every day essentials, award winning sports bras, bra-sized swimwear, maternity and nursing, and nightwear. But apart from its collections, the unrivalled service is what makes the business a success. There are few stores that can compete with its 90% conversion rate from fitting room to making a purchase. Each member of staff is an expert bra fitter, with ongoing regular training to maintain the high quality of service.

Since its inception in 2012, TKD Lingerie has grown organically in the UAE and it is known as the number one stockist of maternity lingerie with strong ties to the pre and post natal community. It has also opened a store in Al Aaali Mall in Bahrain, and it is in the process of launching its new webstore to be able to reach an even greater number of women who want and need more from their lingerie.

The boutique in Town Centre Jumeirah will welcome customers with special treats, complimentary expert bra fittings, and free play for kids at the play centre next door, Fairytales, on its birthday Wednesday 28th February.
Home
>>
Fashion Section