Home
>>
Entertainment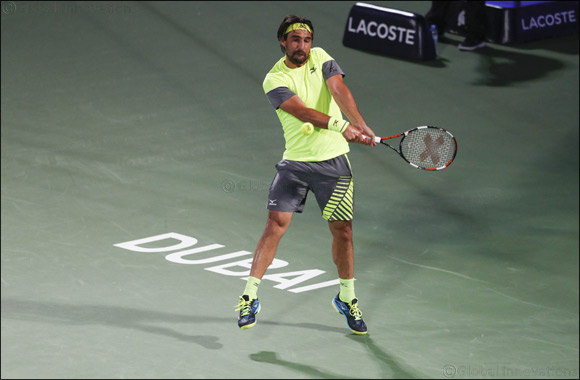 Marcos Baghdatis Makes a Winning Start at Dubai Duty Free Tennis Championships
February 27, 2018 – DUBAI, UAE: Crowd favourite Marcos Baghdatis made a winning start at the Dubai Duty Free Tennis Championships tonight, beating Viktor Troicki 7-5 6-2.
The 2016 finalist broke to take a 2-1 lead in typically flamboyant fashion with a perfectly placed lob. Although Troicki levelled at 3-3 in a contest of long baseline exchanges, Baghdatis earned a second decisive break at 5-5 and served out the set. A fine opening game of the second set then gave Baghdatis a further break that did much to dissolve his opponent's resistance.
'I think it was a great battle in the first set,' said Baghdatis. 'I mean, tough conditions. First match of the tournament, it's always hard, especially when you play a player like Viktor that knows you so well, played so many times. We played doubles together. We are kind of friends. Yeah, it's a bit tough.
'But, yeah, I think I played very well in important points of the match. I came strong in the first game of the second set to make some great returns and break him there. I think, yeah, then it went like a routine. I started playing better and better, more confident.'
Baghdatis is as pleased to be back in Dubai as the crowd was to see him.
'Yes, it's an amazing place to be. Best place to be at this time of the year. Yeah, I'm having fun whenever I come here. I love the conditions. I love the club here. I mean, the people, the crowd comes out here and shows you so much energy, gives you so much energy. It's always a pleasure being back.'
In other matches, there was a welcome victory for third seed Roberto Bautista Agut, who defeated Florian Mayer 6-3 6-4 to register his first win since beating Juan Martin del Potro to win the Auckland title early last month, and sixth seed Philipp Kohlschreiber eased past qualifier Gleb Sakharov 6-4 6-2. Wild card Stefanos Tsitsipas, the first Greek player to reach the ATP Top 100, beat Mikhail Kukushkin 6-2 6-7 (5) 6-3, Benoit Paire defeated Yoshihito Nishioka 5-7 6-4 6-1 and 2017 semi-finalist Robin Haase edged past qualifier Quentin Halys 7-5 2-6 6-4 to line up a possible second round clash with top seed Grigor Dimitrov.
Although fourth-ranked Dimitrov is considered the overwhelming favourite to claim the title he is taking nothing for granted. If he passes Malek Jaziri in the first round then he knows that opponents such as Haase also pose a danger.
'I think always these kind of draws are creating very big opportunities for everyone to do their best, to do better, to push themselves more,' he cautioned. 'Anyone can come out and play unbelievable. Maybe it's their day. On any given day they can just produce a different tennis.
'In a way also players have nothing to lose when they play against a higher seed. They're a bit more loose, a bit more freely swinging. All these things are adding up to the occasion. That's why I think you have to be ready. You should never underestimate an opponent you play.'
'It was a great pleasure to see Marcos Baghdatis here once again, and he didn't disappoint as he overcame a determined opponent in Viktor Troicki,' said Colm McLoughlin, Executive Vice Chairman and CEO of Dubai Duty Free. 'That was just one of what is certain to be a succession of wonderful matches to enjoy as the week unfolds.'
Tournament Director Salah Tahlak added, 'We have enjoyed a highly entertaining opening day, with our 2017 semi-finalist Robin Haase being stretched by a qualifier before advancing underlining how very competitive everyone is. Clearly, Grigor Dimitrov is right in stating that no player can be certain of success, including himself. It is going to be a very interesting week.'
The Dubai Duty Free Tennis Championships, which continues until 3rd March, is owned and organised by Dubai Duty Free and held under the patronage of H. H. Sheikh Mohammed bin Rashid Al Maktoum, Vice-President and Prime Minister of the UAE and Ruler of Dubai.
Home
>>
Entertainment Section