Home
>>
Lifestyle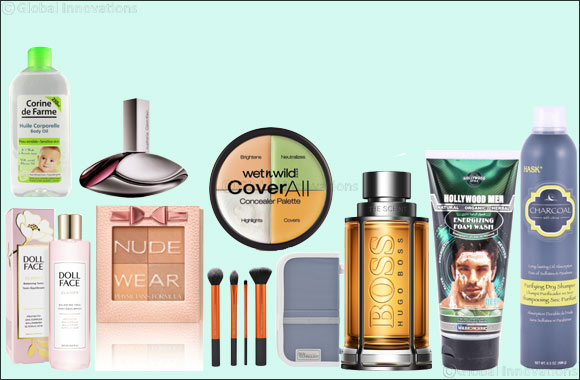 GlamBeaute.com Launches in the UAE with an exceptional portfolio of beauty and wellness brands
A one-stop online shop for every beauty necessity
Dubai, UAE, March 01, 2018: Leading FMCG and beauty distributor Multiplex International LLC announced the launch of its flagship online store, Glambeaute.com, to cater to the needs of a largely internet savvy consumer base in the UAE with affordable beauty and wellness products. The new website and online store, sporting a fresh, contemporary and well-laid-out look, allows for a dynamic and mobile-friendly experience. Showcasing a large portfolio of international brands, GlamBeaute.com is set to rapidly expand regionally in countries such as KSA, Oman, Bahrain and Kuwait in the months ahead. The launch of its e-commerce website underlines the company's goal to serve thousands of clients across the GCC.

GlamBeaute.com is a one-stop online shop for every beauty need. With over 90 brands and 3,500 references in luxury perfumes, make-up, skincare, bath & body, hair care, baby care, male grooming and pet care, the brand is confident that it will satiate the ever-changing needs of a large UAE audience, and is determined to grow its portfolio of brands to meet customer demands. With a focus on speedy delivery and convenient payment options, GlamBeaute.com will ship to the UAE with free shipping on all orders above AED 150 and a COD option for a faster and easier checkout. Soon, it will roll out its services to surrounding countries.

"We believe that everyone is beautiful, and we are committed to giving our customers access to the best beauty and personal care products available globally. We have partnered with luxe brands to offer products that cover a wide range of needs. We are on top of new trends and will continually introduce new brands and products to offer apt solutions and meet growing demands," said Revna Adnani, Brand Manager, GlamBeaute.com.

In addition to an exceptional offering of popular luxury brands such as Ferrari, Versace, Burberry and Bourjois, Davidoff, and Gucci, a range of drugstore favorites and deluxe brands that include Rimmel, WetnWild, Physicians Formula, Flormar, Doll Face, Bio Skincare, Hask, FISH, Hollywood Style, Max Factor and Prestige can also be purchased on GlamBeaute.com.
Here's a few top picks from GlamBeaute.com:
Physicians Formula Nude Wear Bronzer (AED 89)
Perfecting formulas that deliver a beautiful bare skin effect & skin-glowing finish. Airy formulas infused with a natural extract that allows skin to breathe, as if completely "in the nude".
Hollywood Style Men's Energizing Foam Wash (AED 21)
Hollywood Men Energizing Foam Wash is a luxurious formula made with rejuvenating natural vitamins, soothing exotic and brightening wild herbs.
Doll Face Clarify Balancing Tonic (AED 78)
A balancing toner for all skin types that sweeps away product residue, excess oils, dead skin cells & blemish causing bacteria with this powerful botanical PH balancing skin refreshment. Skin looks sparkling, radiant and gorgeously glowing after use!
Hask Charcoal Purifying Dry Shampoo (AED 30)
The days of oily hair are now over! This lightweight, ultra-fine rice starch formula is infused with charcoal powder to help soak up oil, sweat and odor, leaving hair feeling soft and purified.
Real Techniques Core Collection Brush Set (AED 178)
Create a perfect canvas with this core collection of coverage essentials from Real Techniques including a contour brush, a pointed foundation brush, detailer brush and a buffing brush. The panoramic case acts as a dual carrier and stand that keeps brushes organized on the counter or on-the-go. It's also perfect for drying brushes upside-down.
WetnWild Concealer Palette (AED 29)
Let's spin the colour wheel! This circle of concealers contains all you need to balance out any imperfection in your complexion. It's beauty's version of playing with paint, and your face is your colouring book!
Corine De Farme Baby Body Oil (AED 16)
This Body Oil is idea to share moments of tenderness and relaxation with your baby from birth on, while taking care of the skin. Enriched with sweet Almond Oil known for its nourishing and softening properties, it moisturizes, preserves skin softness and leaves it lightly scented. Its soft texture makes the massage easier, with a dry, non-sticky effect.
Calvin Klein Euphoria EDP 100ML for Women (AED 292)
Provocative, sexy, sensual. An addictive oriental fragrance with contrasting exotic fruits, seductive florals and a rich creamy signature.
Hugo Boss The Scent EDT 100ML for Men (AED 309)
A captivating perfume for men that is irresistible and unforgettable. The fragrance releases sensual notes of ginger, exotic maninka fruit and leather over time, enticing the senses.
Home
>>
Lifestyle Section