Home
>>
Entertainment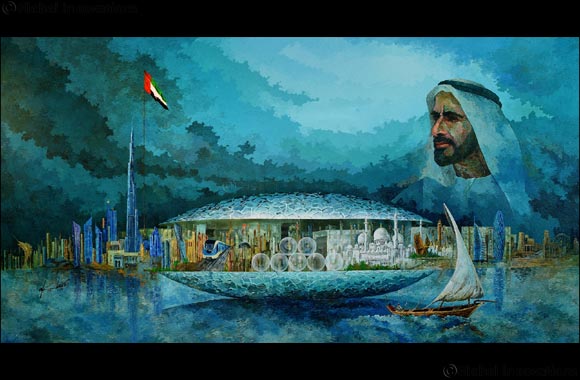 UAE-based artist pays tribute to HH Sheikh Zayed through his magnificent artwork
Worked ceaselessly for 70 days to complete the 11ft x 5.5ft painting, representing the unique vision of the founding father of the nation
March 4, 2018; Dubai, UAE: Converting the founding father of the UAE's vision and mission into a visual delight, UAE-based artist Akbar Saheb creates a work of art that pays apt tribute to HH Sheikh Zayed Bin Sultan Al Nahyan and his deep-rooted influence on today's UAE. The 11ft x 5.5ft acrylic painting was completed within a span of just 70 days, the artist working ceaselessly to give it the last finishing strokes at the dawn of 2018 which marks 100 years since the birth of Sheikh Zayed. The magnificent work, titled, "Zayed's Seven Pearls", depicts Sheikh Zayed's legacy and hard work in uniting the seven emirates while taking it to the new heights of growth, prosperity and progress, within a very short span of time.
Akbar Saheb, a UAE resident for the past 22 years, has been an admirer of Sheikh Zayed, his efforts in carving out a nation, instilling a spirit of unity among the seven emirates, and then creating a road map of progress that serves as a guideline even today. The artist worked for approximately seven hours each day, beginning at the end of October and completing the painting in the first week of January, using brush and knife as his main tools.
Explaining the artwork, Akbar Saheb said: "For this painting, I went back to the roots, where it all began. The UAE as a nation has come a long way from fishing and pearling people that populated its shores a few decades ago. This is the symbolism that you will find in this painting as well: the seven emirates are symbolized as seven pearls in a shell, while the entire work is dotted with several references from across the country. I've deliberately used predominant blue since it's a colour of peace, because the UAE has brought peace and happiness to countless people, bringing together a harmonious mix of nationalities".
The acrylic colours on canvas depict landmarks of each emirates. While the towering Burj Khalifa, the stately Burj Al Arab and world-class metro train define Dubai, the classic Grand Mosque, Hyatt Capital Gate and artistic representation of Louvre speak of Abu Dhabi. Other references include the RAK Gateway, Al Qasba's Eye of The Emirates Wheel in Sharjah, Sailfish statue in Umm Al Quwain, the Golden Falcon of Fujairah, and the historic Ajman museum.
Entirely self-taught, Akbar Saheb, is a prolific painter and has been acknowledged and recognized at various forums for his artworks. He has more than 1000 paintings to his credit and has earlier exhibited a series of paintings of UAE rulers, including HH Sheikh Zayed Bin Sultan Al Nahyan, and HH Sheikh Mohammad Bin Rashid Al Maktoum. Last year, he gained the distinction of being the only artist whose illustrations featured in Indian Prime Minister Narendra Modi's book, Mann Ki Baat.
Home
>>
Entertainment Section