Home
>>
Fashion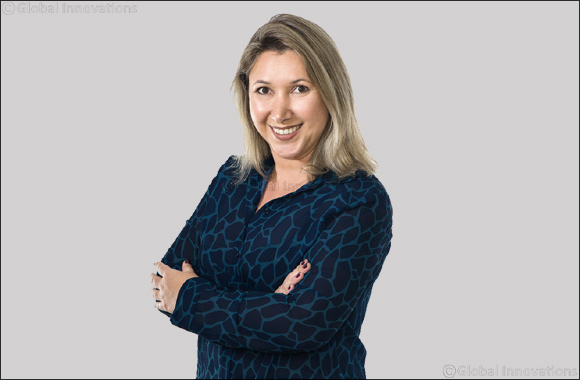 Roberta Ramos is the Project Manager at the Brazilian Footwear Industries Association
Dubai, UAE, March 05, 2018:
Can you specify the footwear trends in the Brazil?
Brazilian footwear winter collections are inspire by sophistication, elegance and technology. For lovers of fashion, our proposals combine materials, textures and appliques that allow them to be at the forefront at all times. Sock boot and biker boots set the trend in medium or low heel and wide to offer comfort and functionality. Slippers, oxfords, loafers and open loafers enhance the dress codes with colors such as white, pink, wine and grey. The flatforms and sandals bet on innovative lining in suede, nappa and patent leather and with soles that bring natural elements.

On the other hand, the footwear design explores the adornments, pearls and heels in different textures such as Faux Fur, leather, patent leather, suede, velvet, glitter, among others. The open loafers, flats, slingbacks and sandals in red tone will predominate to accompany the chromatic combination, the pearls are involved as part of the footwear design and symbol of sophistication.

Our brands also work with boots, scarpins, slippers and slouchy boots, high-top or knee-high, ankle boots that mix knit or lycra mesh, in materials such as leather and with details of metal. The color chart complements the 'looks' with black, red, white, graphite, marine, green, wine, pink and earthy tones such as brown, chocolate, saffron and mustard.

For those chic consumers, mosaic models stand out where vibrant and contrasting colors predominate, which bring a futuristic atmosphere in an elegant way for the collection. The pieces show materials such as metallized, prints animals, velvety and varnish, in earthy tones like cocoa and pastel palette.

For the male segment, the collections involve a theme that includes a palette of colors that vary between natural and earthy tones. At the same time, it presents metropolitan tones: black, grey, navy blue and white. The sober colors give a formal look to the style. Worn leather and vintage suede will be some of the techniques for the winter.

For children, we are working with a collection inspired by fairies and the trend in lunar and squared prints, with floral finishes printed on materials such as denim, laser cuts, velvet and tweed capelladas will be a perfect alternative. One of the themes that make up the new collection is the navy, in colors such as blue, red and white.

Since 2008, we have been working in partnership with Vogue Brasil in a special edition, called Vogue Brazilian Footwear, the only one in the world dedicated exclusively to shoes. The publication has a potential impact on international buyers, retailers, distributors and opinion leaders and has two annual editions: one in winter and one in summer.
You can find Vogue Brazilian Footwear in this link: http://www.abicalcados.com.br/midia/modulo-download/arquivos/15181940417804.pdf

Where in Dubai can one find Brazilian footwear
Due to the great diversity of Brazilian brands presented in Dubai - from ladies to kids and men's shoes - it's possible to find products in different kinds of chains and most of them have great relationships with Brazilian manufactures. Just to cite a few: Shoes4Us (Al Safeer Group), ShoeMart and Shoexpress (Landmark Group), Chic Shoes, Level Shoes, Global Feet and Lulu Group.

In how many countries is Brazilian footwear present
Brazil is the fourth largest footwear producer in the world. Around 150 different countries import shoes from Brazil. In 2017, footwear manufacturers shipped 127.13 million pairs, which generated US$ 1.09 billion, 9.3% more than in 2016 and the best financial result since 2013 (when it was US$ 1.095 billion). The physical result, in turn, was only 1.2% higher than the one registered in 2016, which shows a price increase in Brazilian products, especially due to the devaluation of the US currency recorded during the past year. In 2017, the main destination of Brazilian shoes was the United States. To that country, 11.33 million pairs were shipped, which generated US$ 190 million. The second destination of Brazilian footwear in 2017 was Argentina. Over the period, Argentinians bought 11.57 million pairs for US$ 147 million; and the third destination was Paraguay, to 14.3 million pairs were shipped, which generated US$ 74.64 million.
Please elaborate on the USP's for Brazilian footwear
The Brazilian footwear industry is very diverse. We have about 9 clusters, specialized in different types of shoes. We have strong manufacturers still producing performance shoes for the biggest international brands, as much as factories of children shoes (even one specialized in girls and another in boys), producers of men shoes that goes from the classic styles, until ones with high comfort technologies, and of course, the biggest niche, ladies shoes. This last one, includes many different styles, combining comfort, design and personality
Do you have any celebrities endorsing the footwear globally, what is a suitable celebrity you see for promotions in the UAE.
You can see some international celebrities wearing Brazilian shoes, as for example, Kate Middleton, Lady Gaga and our most famous top model Gisele Bundchen. In order to promote the Brazilian brands, Brazilian Footwear program develops on its target markets many activations. One of these initiatives is Fashion Bloggers, a project that takes place annually in order to promote the Brazil's footwear and fashion, bringing to the Brazil influential bloggers from target markets of the Brazilian Footwear program for a photo shoot. The production is carried out in different Brazilian states to present all the cultural diversity of the country. As a result of the activation, the publications made by the invited bloggers promote the image of the participating brands in their countries, showing the potential of the Brazilian footwear industry and the diversity of its production, impacting end users and influencers. We have already worked some bloggers, as Mary Seng (Happily Grey blog) from the USA; Johnnybell Sanchez and his daughters Zareena and Leanne (NY Trendy Moms blog) from the USA; Veronica Ferraro (The Fashion Fruit blog) from Italy, Caroline Daily from France, and with Annie Georgia Greenberg (blog Renery29) from the USA.
Home
>>
Fashion Section