Home
>>
Entertainment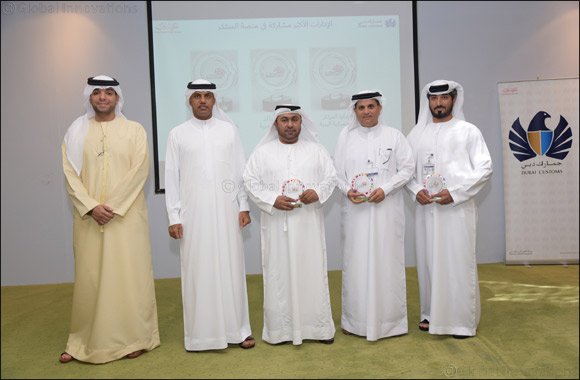 Dubai Customs honours 'Innovator Award' winners
Dubai – 05 March 2018: The Service Innovation Department of Dubai Customs (DC) honoured the winners of Innovator Award, an innovation-centred internal competition among DC employees and business units. The winners were congratulated and recognized by Ahmed Mahboob Musabih, DC Director, in presence of executive directors, heads of departments and a number of staff.
The event was held in line with the UAE Innovation Month and as part of Dubai Customs continuous effort to innovate its services and promote the culture of innovation.
This "Innovator" competition aimed at realizing service leadership at the local and global level as well as boosting the spirit of innovation and creativity to attain a leading level of excellence and happiness across society. It was also supportive of the initiative launched earlier by the Director of Dubai Customs to allocate 10 hours per month for each department to generate innovative opportunities, adopt new business models and offer unprecedented services.
The innovation opportunities received from various Dubai Customs' employees were assessed according to the announced criteria, and the top of these were selected for voting by employees.
During the event, certificates of appreciation and excellence plaques presented were presented to 60 employees who successfully completed service innovation courses offered by the Global Institute of Innovation (GII), namely Certified Innovation Assessor and Certified Design Thinking Professional.
Home
>>
Entertainment Section