Home
>>
Government, Legal & Humanity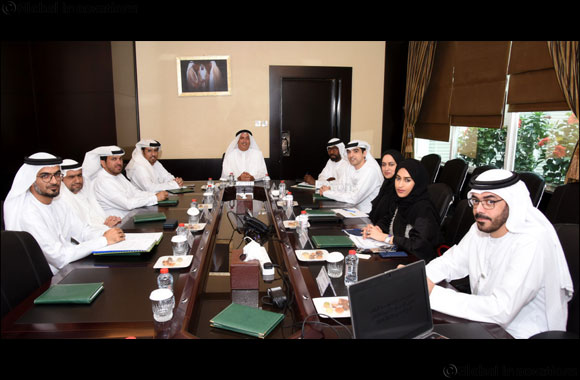 Awqaf and Minors Affairs Foundation Establishes Four New Committees, Approves 2018 Budget at First Meeting of New Board of Directors
Dubai-UAE: 7 March, 2018 – The Board of Directors of the Awqaf and Minors Affairs Foundation (AMAF) announced the formation of four new committees – the Auditing and Governance Committee, the Charity Work Committee, the Investment Committee, and the Endowment Development Committee – with the aim of improving efficiency, governance, and transparency.
The announcement followed the first meeting of the new Board of Directors, established by Resolution No. 3 of 2018 that was issued by His Highness Sheikh Hamdan bin Mohammed bin Rashid Al Maktoum, Crown Prince of Dubai and Chairman of The Executive Council.
His Excellency Essa Abdullah Al Ghurair, Chairman of AMAF, presided over the meeting. Attendees included His Excellency Abdul Rahman Hareb Rashid Al Hareb, Vice Chairman, His Excellency Ali Al Mutawa, Secretary General, His Excellency Khaled Al Thani, Deputy Secretary General, Ahmad Darwish Al Muhairi, Dr Abdul Aziz Mohammed Al Hammadi, Huda Essa Buhumaid, Hamda Ibrahim Mohammed Obaid, Abdulla Ali Al Madani, and Dr Hamad Al Hammadi.
The meeting discussed projects implemented by AMAF in 2017, as well as select aspects of Law No. 9 of 2007 and Law No. 14 of 2017. The Foundation's annual endowment, minors and investment plans were also on the agenda. Furthermore, the board members approved the financial budget for 2018.
His Excellency Essa Abdullah Al Ghurair said: "I thank His Highness Sheikh Hamdan bin Mohammed bin Rashid Al Maktoum for his confidence in AMAF's work in caring for minors and implementing our leadership's directives to increase the contribution of endowments to the socio-economic development of the UAE."
He added: "Endowments play a crucial role in boosting economic sustainability. Therefore, the Foundation remains committed to advancing the culture of endowment in the UAE, in addition to equipping the country's minors and orphans with the necessary skills, knowledge, and ethical values to become upstanding members of the community. One of the objectives of charity work is to ensure that all segments of society can participate in building the country's future. Our minors and orphans have proved their ability to overcome challenges and their keenness to serve their homeland."
For his part, His Excellency Ali Al Mutawa said: "Investment is a key driver of sustainability for our assets and endowment funds. Investing in the education of our minors and orphans goes a long way in building their characters, instilling positive values, and reinforcing their sense of belonging. It is an investment in a never-ending resource."
He added: "Our leadership's vision for the future emphasizes the UAE's status as a key player in the regional and global humanitarian sector. The country is the world's largest development aid donor – an achievement that can be attributed to the tireless work of its pioneering charity and humanitarian organizations. With the UAE stepping up its efforts to execute the National Agenda of the UAE Vision 2021, the coming years will represent a critical stage in the country's development journey, and charity and social work will be an integral part of this journey."
Home
>>
Government, Legal & Humanity Section