Home
>>
Education & Training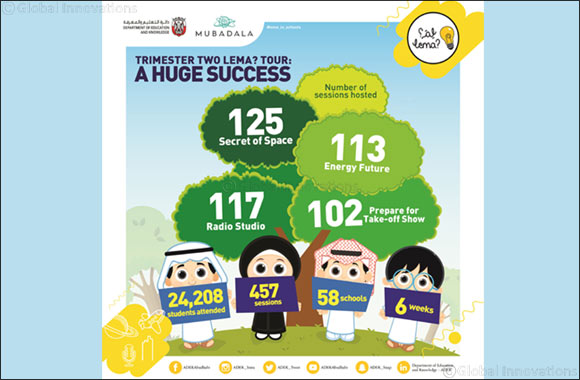 24,208 school pupils take part in inspirational 'lema?' sessions
Six-week Trimester Two Tour of ADEK initiative reaches more than 24,000 pupils in 58 schools across the Emirate, record results for the programme
Tailored 'lema?' workshops and shows enjoyed by 277 pupils of determination
Schools urged to act fast to get their chance to be part of the Trimester Three Tour beginning April 8th
Abu Dhabi, March 11th 2018: Schools across Abu Dhabi Emirate are racing to sign up to the Trimester Three Tour of the interactive 'lema?' programme after a hugely successful winter schedule entertained and inspired another 24,208 pupils.
The fun-filled 'lema?' workshops and shows - which aim to educate and inspire children to learn more about Science, Technology, Engineering and Mathematics (STEM) - were rolled out in 58 schools across the emirate in the first two months of the year, where they were enjoyed by 8,733 students in Al Ain, 3,869 students in Al Dhafra and 11,606 students in Abu Dhabi. This is the highest reach the programme has secured since its inception in 2012.
The four interactive sessions - Secrets of Space, Radio Studio, Energy Future and Prepare for Takeoff - have been designed to align to the school curriculum as well as inspire innovation and curiosity in young minds. Specially designed versions of the show are also run to ensure inclusion of pupils of determination and 277 children with special needs were reached during the Trimester Two Tour.
The 'lema?' initiative has been running since 2012 and is increasing in momentum every year with the sessions proving hugely popular with the children and teachers. With the next six-week tour kicking off on April 8th, schools are signing up fast.
Bassima Lotfi, Principal of Al Marfa school in Al Dhafra, which took part in the Trimester Two Tour, said: "The 'lema?' programme is very important for students, schools and the educational sector in general. It broadens horizons for students' views of STEM subjects by using a completely different creative approach as opposed to the traditional methods and tools used in everyday classes.
"The practical and fun aspects make students feel like they are living through the experiments, which excites them more. This leads to a deeper understanding of the subjects at hand, which in-turn leads them to be inspired. I encourage other schools to invite the 'lema?' programme into their classes."
Operated by the Abu Dhabi Department of Education and Knowledge (ADEK) with the support of its Platinum Sponsor, Mubadala Investment Company, 'lema?' is held over the course of six weeks three times a year, delivering Arabic and English workshops and shows aimed at students in Grades 3 to 7.
STEM subjects are the foundation of a modern, well-rounded education and are at the heart of the UAE government's drive to create an innovative and knowledge-based society. 'Lema?', which means 'why?' in Arabic, aims to inspire a new generation of scientists, engineers, innovators and leaders in technology who will be at the forefront of shaping the UAE of tomorrow.
Home
>>
Education & Training Section