Home
>>
Entertainment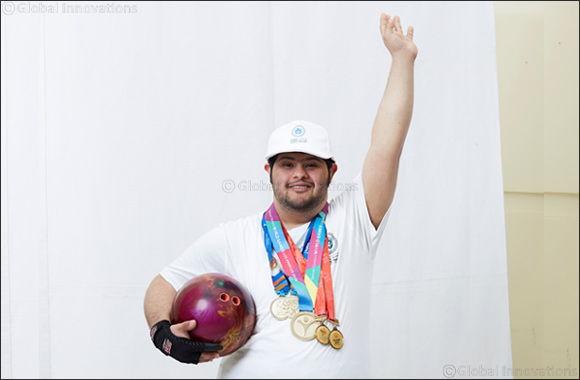 Emirati bowler Saleh Al Marri takes home gold at Abu Dhabi's Special Olympics IX MENA Games 2018
Athlete's mother, Umm Saleh, says Special Olympics has helped to boost her son's self-confidence around others as well as his enthusiasm for sport
20 March 2018, Abu Dhabi: Umm Saleh fills with pride each time her son rolls a bowling ball to record another game-winning strike. Saleh Al Marri dominates the lanes wherever he plays. The 24-year-old Emirati is a bowling sensation with a remarkable record of victories and an impressive tally of strikes.
But what is even more impressive is the change he has undergone since he found his love of the sport and began competing on the world stage at the Special Olympics, says Umm Saleh.
"The Special Olympics has affected various aspects of Saleh's life and he has become more enthusiastic and self-confident.
'Because the championship is taking place here in Abu Dhabi he wants to be in first place among the people of his country."
On Sunday, the opening day of the Special Olympics IX MENA Games 2018 in Abu Dhabi, Saleh came in first place in the 9th division of the traditional singles bowling competition played at Zayed Sports City, winning yet another gold to add to his growing collection.
Saleh first started playing the sport in 2010. A year later he competed in his first Special Olympics in Athens, Greece, where he won two gold medals.
He followed this up with two golds in Egypt and victory in the World Championship in the USA in 2014, says Umm Saleh.
'Now he wants to continue making achievements," says the athlete's mother, adding that her son's sporting success is another example of the passion and determination he demonstrates to his family each day.
"He is smart, beloved and distinguished among his friends, family and all the people."
As a youngster Saleh spent two years as a student at Al Noor Special Needs Center in Abu Dhabi.
He then enrolled at the Zayed Organization, which had a tremendous impact on his development, says Umm Saleh.
"I remember once he was in Germany for medical treatment. He went out with his brothers to play bowling and was interacting with the German people and all the people there.
"Saleh has always relied upon himself. One time he felt sick and went to the doctor with the driver by himself.
"He cares a lot about his family and they treat him as they would any person of his age. He is not dealt with in a special way. At home he has all the support of his brothers and his father and feels nothing less than them."
The Special Olympics IX MENA Games and Special Olympics World Games Abu Dhabi 2019 are a part of the UAE's National Vision 2021 that highlights full integration of people of determination into everyday society. Special Olympics World Games Abu Dhabi 2019 will be the most 'unified' games in history and promise to offer an inclusive experience for those with and without intellectual disabilities.
More than 1,000 athletes from 32 countries have travelled to Abu Dhabi to take part in MENA IX Games, which is the first major sporting event ahead of Special Olympics World Games Abu Dhabi 2019. Athletes are taking part in 16 sports across eight venues including ADNEC, Zayed Sports City, Yas Marina Circuit, NYUAD, Officer's Club, Mubadala IPC Arena, Al Jazira Sports Club and Al Forsan Club.
Held under the patronage of H.H. Sheikh Mohamed bin Zayed Al Nahyan, Crown Prince of Abu Dhabi and Deputy Supreme Commander of the UAE Armed Forces, the Special Olympics World Games Abu Dhabi 2019 will see the biggest humanitarian sporting event in the world coming to the Emirati Capital, marking its first debut in the history of the MENA region.
Home
>>
Entertainment Section