Home
>>
Government, Legal & Humanity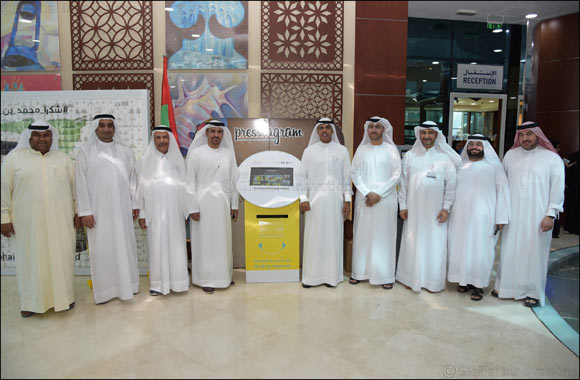 Dubai Customs celebrates International Day of Happiness and Year of Zayed
Dubai – 20 March 2018: Dubai Customs celebrated the International Day of Happiness on 20th March with 10 activities and initiatives in line also with the Year of Zayed. The events took part in the presence of Ahmed Mahboob Musabih, Director of Dubai Customs, Abdullah Mohammed Al Khaja, Executive Director of Clients Management Division, number of directors and senior managers, and more than 500 employees and clients.
Musabih kicked off the "Let's Create Happiness Together" activity, organized by Corporate Communication Department. Employees enjoyed their morning cup of coffee in a happy and cheerful ambience, and they had their pictures published on the social media with the hashtag #DubaiCustoms_Happiness
Director of Dubai Customs and the employees stood in front of the main entrance to form the happiness logo and deliver a happy and positive message to the world.
Client Management Department launched their "How to spread happiness" initiative with an active participation of Dubai Customs clients. Clients' suggestions and ideas on how to spread happiness were innovatively turned into a massive 4X2.5m signboard.
Director of Dubai Customs said:" Creating happiness is a priority here. We know how happiness generates good performance and spreads positivity around. Dubai Customs is no stranger to hard work and positivity, so it was not surprising for it to score best and top the happiness index which reflects the big internal efforts exerted to materialize the wise vision of His Highness Sheikh Mohammed bin Rashid Al Maktoum, Vice President and Prime Minister and Ruler of Dubai".
On his part, Khalil Saqer bin Gharib, Director of Corporate Communication Department said that the "Let's Create Happiness Together "function aims at raising happiness level amongst employees and clients, and breaking the routine.
On his part, Edris Behzad, Client Management Director pointed out that Dubai Customs directly contributed towards more happiness in Dubai Government through its customs centers which was equipped with 304 smart devices to measure client happiness.
Home
>>
Government, Legal & Humanity Section