Home
>>
Education & Training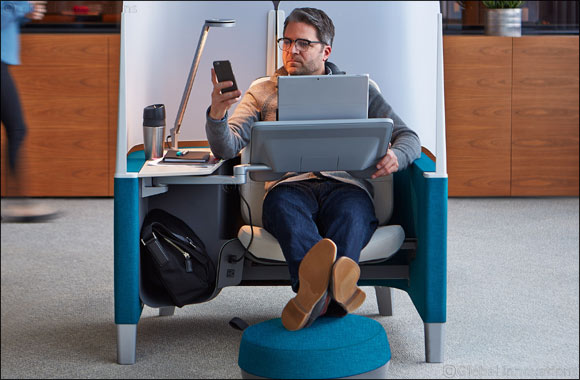 Steelcase Wins "Best Resource or Equipment – Non ICT" at the 5th Annual Gess Education Awards
Brody WorkLounge provides a classroom solution that is good for the body and the brain
Dubai, March 21, 2018 – Steelcase, a premier research-led furniture manufacturer for the workplace, healthcare and education spaces, has been awarded the 'Best Resource or Equipment – non ICT' for its Brody WorkLounge at the GESS Education Awards. Now in its fifth year, the 'GESS Awards' highlight the quality and diversity of educational products, resources, services and people as well as the best educational establishments and most dedicated members of the teaching profession, across the UAE and the world.
Designed to create the most effective classroom environment for students and teachers, the high performance and supportive Brody WorkLounge features patented LiveLumbar™ technology, bringing thoughtful ergonomic design to the lounge posture.
Providing privacy screens and an enhanced sense of psychological security for workers, Brody WorkLounge offers the ideal microenvironment for people who need a place to get away without going away. Transforming underutilized, in-between spaces into coveted destinations, its adjustable Personal WorkSurface also holds technology at eye level, reducing neck and shoulder strain while supporting today's varied working styles and ample device usage.
Commenting on the award Xavier Fuchs, Steelcase Regional Sales Director Middle East & Sub-Saharan, said: We are delighted to receive this award from GESS, and to be a part of this rapidly changing education industry. To win such an award is a milestone in Steelcase's journey towards providing the best, most intuitive classroom solutions and we enjoy watching the tangible results they bring to today's students."
The winners of the awards were announced at the Gala Awards dinner which took place on 28 February 2018 at the H Hotel, Dubai.
Home
>>
Education & Training Section