Home
>>
Entertainment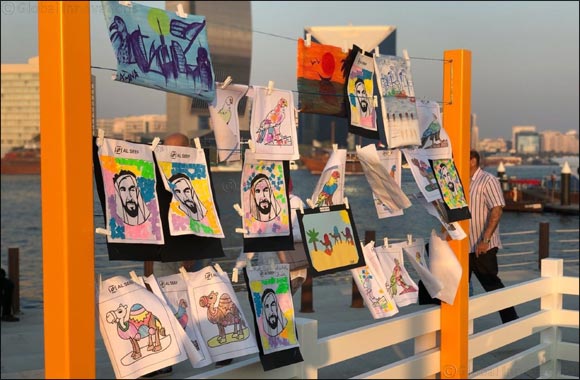 Al Seef hosts The Tale of Zayed through Art in partnership with Dubai Culture
Colourful Year of Zayed art activation features paintings inspired by the life and legacy of the UAE's founding father
Dubai, United Arab Emirates, 25 March 2018: This Dubai Art Season, Al Seef has partnered with the Dubai Culture & Arts Authority (Dubai Culture) to host The Tale of Zayed through Art, an exclusive Year of Zayed event, as an extension of the annual Sikka Art Fair season.
Every weekend from 22 to 31 March, Al Seef Events Arena comes alive with an art activation that features paintings inspired by the life and legacy of the founding father of the UAE, late Sheikh Zayed bin Sultan Al Nahyan. In keeping with the cultural theme, visitors to the destination can also enjoy live Emirati and Khaleeji music performances. Furthermore, they can relieve some of the day's stress and indulge in art therapy at easels that have been set up at the venue for freestyle painting. Visitors can also choose to leave personalised and inspired messages and colourful handprints on art boards at the venue. Kids visiting Al Seef will love dabbling in the fun, educational, arts and crafts workshops and painting sessions organised just for them, based on the event's theme.
A free shuttle bus service runs between the main venue of Sikka Art Fair in Al Fahidi Historical Neighbourhood and Al Seef until 26 March, from 4pm, for visitors to travel and enjoy the art exhibitions across both the destinations.
Event: The Tale of Zayed through Art (in partnership with Dubai Culture)
Dates: Thursday, Friday, and Saturday from 22 March to 31 March
Time: 4pm to 10pm
Venue: Al Seef Events Arena
Entry fee: Free of charge
Registration: Not required
Parking: Available
Home
>>
Entertainment Section