Home
>>
Lifestyle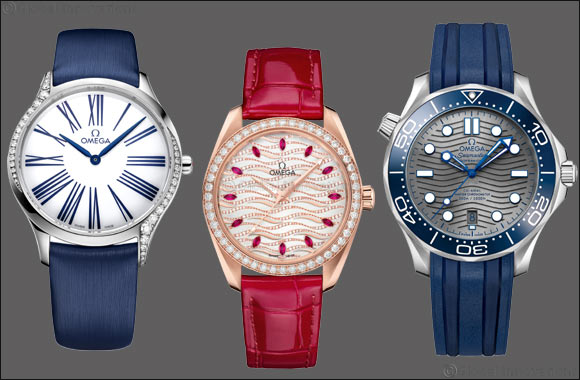 Baselworld 2018
Four years of Master Chronometer innovation… and counting.
Dubai, UAE, March 25, 2018: 1. The Way Forward
As OMEGA unveils its newest watches for 2018, there are many designs and updated looks that are sure to be admired. From the complete makeover of the Seamaster Diver 300M, to the inspired Olympic Games timepieces, OMEGA is truly proud to add even more choice, materials and colour to its growing collections.
However, now is also a time to appreciate the technical innovation that is driving OMEGA's watchmaking forward. Since 2015, the brand's Master Chronometer movements have provided customers with the highest certified standard of precision, magnetic-resistance and chronometric performance in the Swiss watch industry.
When the Master Chronometer testing and certification was first launched, there was naturally a lot of interest from media and customers, who all wanted to understand the long- term potential and plans for this ambitious undertaking.
In 2018, it is clear to see that the Master Chronometer mission is firmly on course and rapidly growing. This year sees the arrival of the 12th and 13th new Master Chronometer calibres. It clearly shows that almost every new mechanical OMEGA watch is being rethought and modelled around the strength of its movement. And thanks to the new OMEGA factory that was opened last year, the efficiency and capacity of testing and certification will only get better.
This is what OMEGA has always been about. Since its earliest days of watchmaking in 1848, now 170 years ago, the movement has been at the heart of this company's thinking. It is still what OMEGA prides itself on today.
Our watches for Baselworld once again show both the heritage and modern excellence of OMEGA. Yet behind-the-scenes, it's important to remember that the brand is eagerly building on its Master Chronometer promises and constantly developing new calibres that will define the highest quality for many years to come.

2. Seamaster Diver 300M
25 years above and below the waves
Since 1993, the Seamaster Professional Diver 300M has enjoyed a legendary following. Loved for its design and ocean technology, the original timepiece signalled OMEGA's triumphant return to the world of diving watches and also ignited the brand's long-standing partnership with James Bond. Now, 25 years later, a bold new collection has arrived.
OMEGA is unveiling a complete facelift of this famous watch in 2018, with 14 unique models, including 6 in stainless steel and 8 in a mix of stainless steel and gold.
Now sized at a larger 42 mm, each new Diver 300M has been given a Master Chronometer Calibre 8800, instantly taking the collection into a higher realm of precision, performance and magnetic resistance.
Every detail of the outward design has also been rethought, including the iconic diving bezel, which is now made from ceramic with the diving scale in Ceragold™ or white enamel (for longer-lasting whiteness and durability).
The dials are also made from polished ceramic and are available in black, blue or PVD chrome colour. Most notably, OMEGA has reintroduced the wavy pattern (now laser- engraved) that was a popular feature of the original design.
All indexes have been raised and filled with Super-LumiNova and, to keep track of the days, the date window has been moved to 6 o'clock. Even the skeleton hands (rhodium-plated,18K gold, or blued) have been subtly reshaped, which fans of the model will surely notice.
One of the Diver 300M's most important details has always been its helium escape valve. For the new models, the valve has been given a conical shape and has been patented by OMEGA with an ingenious technology that allows it to be operated underwater.
Turning the watch over reveals a wave-patterned edge on the caseback, as well as sapphire crystal, through which you can see the METAS-approved movement.
Finally, each model is presented on a traditional iconic metal bracelet or an integrated black or blue rubber strap. The metal bracelets feature a new ergonomic design and have been closely integrated to the case. They also include OMEGA's patented extendable foldover rack-and-pusher with a helpful diver extension.

Seamaster Diver 300M Titanium Tantalum Limited Edition
When the Seamaster Diver 300M was released 25 years ago, OMEGA introduced a very unique metal known as tantalum. The colour worked perfectly within the revolutionary new watch design – which also included professional characteristics such as a helium escape valve and extendable divers' clasp.
This year, OMEGA is paying tribute to that 1993 release by introducing a special model with tantalum, limited to 2,500 pieces. Once again, using this metal gives the watch a unique touch and offers a collectable addition to the new Diver 300M selection.
Sized at 42 mm, this Limited Edition model follows the same facelift principles as the new Seamaster Diver 300M collection. For example, the conical helium escape valve, wave- edged caseback and the integrated bracelet.
However, in this version, tantalum has been used for the base of the bezel, as well as in the middle links of the bracelet. The metal's blue-grey tones offer a subtle contrast to the grade 2 titanium, which OMEGA has used for the brushed case and bracelet. This Limited Edition model also includes touches of 18K Sedna™ gold, which can be seen on the crown, bezel ring, helium escape valve, bracelet links and hands.
Turning the timepiece over reveals a transparent caseback, featuring an image of the OMEGA Seahorse, which is an iconic symbol associated with the Seamaster line. Through the sapphire-crystal, you can also see the Master Chronometer movement 8806, certified by the Swiss Federal Institute of Metrology (METAS).

3. Seamaster Aqua Terra Jewellery
Elevating design with a captivating selection of precious stones OMEGA's Seamaster Aqua Terra collection has recently undergone a celebrated transformation, embracing a number of subtle and inspired changes. Now, the collection is going one step further, with several new "Jewellery" models that offer a design beyond compare.
With more models set to be unveiled, this particular version features a symmetrical 38 mm case crafted from 18K Sedna™ gold and includes a diamond-paved bezel. This same gold is also used for the watch's hands, which point to 12 marquise-cut red rubies at every hour.
The impressive dial is notable for three different styles of horizontal waves, which celebrate the undulating rhythm of the ocean. To achieve the overall look, silvery guilloché waves are interspersed with waves in 18K Sedna™ gold as well as 18K Sedna™ gold waves that are paved with a total of 191 diamonds.
On the side of the case, the Aqua Terra's conical crown is included and polished with an OMEGA logo on a matte surface.
Finally, the watch is presented on a glossy red leather strap and is driven by the Master Chronometer Calibre 8807, offering the industry's highest standard of precision, performance and magnetic resistance.
For discerning watch wearers with an eye for beauty, this is one model that simply must be seen.

4. Seamaster 1948 Limited Editions
A tribute to OMEGA's peaceful use of wartime technology Conflict, although devastating, often drives innovation; and OMEGA's new Seamaster Limited Edition timepieces are firmly rooted in World War II history.
Between 1940 and 1945, OMEGA delivered more than 110,000 timepieces to the British Ministry of Defence (MoD) for use within the Royal Air Force and its other branches. The watches were highly valued by British airmen and sailors for their water-resistance and reliability in combat. The end of the war and the ensuing optimism found OMEGA at the height of its creativity and the brand responded to the demand for a timepiece with the same robust technology and reliable conception, but more aesthetically suited to civilian life.
Launched in 1948, the Seamaster line was OMEGA's first family of watches. The beautifully designed timepieces, which were given greater water-resistance than their military counterparts by OMEGA's novel use of the O-ring gasket technology, would go on to become universally recognised and respected.

In 2018, the 70th Anniversary of the Seamaster, OMEGA is paying tribute to these exceptional timepieces by releasing two Limited Edition models in the spirit of the 1948 classics.
Though both watches stay true to the original post-war design, the Seamaster 1948 Small Seconds and the Seamaster 1948 Central Second are powered by calibres which are very much a product of the 21st century. Driven by Master Chronometer movements 8804 and
8806 respectively, these watches have been battle-tested at the watch industry's highest level.
A stainless steel case, polished bezel, opaline silvery domed dial and polished crown, embossed with vintage Ω are common to both watches; but a closer look at the diamond polished 18K white gold hands reveals subtle differences between the two.
On the Seamaster 1948 Small Seconds, the hour and domed minute hand are in leaf style, while the Central Second is graced with Dauphine style hour and minute hands filled with white Super-LumiNova. On the Central Second model, both the minute and seconds hands are domed.
The Seamaster 1948 Small Seconds includes a small seconds indication at 6 o'clock and is presented on a brown leather strap with a polished-brushed stainless steel buckle. The strap of the Central Second model is blue-grey leather. Like the original straps, both buckles include a vintage OMEGA logo.
The caseback of each watch features an oriented and patented OMEGA 'NAIAD LOCK', engraved with SEAMASTER, LIMITED EDITION, the Limited Edition number and "NAIAD LOCK". As a further tribute to the many aviators and mariners who have placed their trust in OMEGA's timepieces, the flat sapphire crystal itself is laser engraved and lacquered by hand with a 70th Anniversary logo, a Chris-Craft boat and Gloster Meteor aircraft, the first jet plane used by the Royal Air Force. Present day adventurers can also rely on the integrity of the Seamaster, as the new models are water-resistant to 6bar/ 60m/ 200ft.
Both watches are beautifully presented in their own special collector's box, made of soft brown leather. In each box, the watch is kept upright but easily moveable thanks to a magnetic floor, while a spare NATO strap in the original Admiralty grey colour, leather strap and strap changing tool are also included. Each model is limited to 1,948 pieces.
5. Speedmaster Dark Side of the Moon Apollo 8
"We'll see you on the other side"
50 years after the Apollo 8 mission, the first to orbit around the moon, OMEGA is proudly releasing its newest Dark Side of the Moon timepiece. Unlike previous Dark Side models, this release houses a specially decorated version of OMEGA's famous Moonwatch movement – a calibre that deserves to be seen!
To display the workings inside, the dial of this timepiece has been expertly skeletonised. Inside, laser ablation has been used to precisely decorate the bridges and main plate of the blackened movement, producing realistic imagery of the lunar surface. And like the moon, it reveals two unique sides. The dial-side is a light shade to represent our view of the moon's surface from Earth, while the back of the watch delves into the dark side that only astronauts get to see.
In this new creation, OMEGA has again embraced its popular "Dark Side of the Moon" innovation, producing the entire watch in black zirconium oxide ceramic. To contrast this dark tone, the brand has chosen a yellow colour coding. OMEGA first used colour coding in its Speedmaster collection in 1968 for a Speedmaster Racing model. Today, because yellow is often most closely associated with speed, it was seen as the ideal choice for this new watch.
The chronograph hands are varnished yellow, while the watch's tachymeter scale and crown are filled with Super-LumiNova. The black and yellow theme extends to the leather strap, which contains a section of yellow rubber through the middle. A milling tool has then been used to create micro perforations through the constructed strap to reveal the yellow rubber inside.
'WE'LL SEE YOU ON THE OTHER SIDE' – the special words engraved on the caseback - were spoken by Command Module Pilot Jim Lovell on board the Apollo 8 mission at the start of the crew's pioneering orbit to the dark side of the moon - a mysterious hemisphere never seen before by human eyes. Seconds before the spacecraft disappeared beyond the range of radio contact, Lovell spoke these final assuring words to ground control.
Few people will ever get to witness the moon's mysterious distant surface at close range, but to wear the OMEGA Speedmaster Dark Side of the Moon Apollo 8 is to make an authentic connection to space travel history. Its blackened and decorated version of the Calibre 1861
- called 1869 as a tribute to the first moon landing - is a close reminder of the original
Moonwatch movement and OMEGA's unrivalled legacy in space.

6. Trésor Collection
Modern style with a classic touch of diamonds
In the world of women's watchmaking, OMEGA is one name that truly stands out. The brand has been dedicated to its female customers for more than a century, always producing exquisite beauty with innovation to match. Now, the next exciting ladies' collection is launched, offering the ultimate accessory for a new generation.
The new Trésor collection offers a classic design with a truly modern edge. Each model is distinguished by its thin case, available in either 39 mm or 36 mm sizes.
In all models, diamond paving curves along each side of the case and a single diamond is set within the crown. For an added touch, each crown also includes a red liquid ceramic flower, with a design made out of five OMEGA logos. The timepieces are also noticeable for their transferred or embossed Roman numerals, which elegantly circle the dial.
On each Trésor model, OMEGA has included a special mirrored caseback with a "Her Time" design. Behind this caseback sits the OMEGA calibre 4061.
A total of 9 different models are available within the collection. This includes cases made in stainless steel or 18K Sedna™ gold, while the straps come in fabric or leather. A diverse range of dial colours are also available - including black, taupe-brown, white, blue, opaline silver or mother-of-pearl.
7. Constellation Bangles
Elegant jewellery has always provided a natural and distinctive extension to the OMEGA universe. In creation, its refined pieces reflect the spirit of the brand, touching on iconic heritage and design, while offering a beautiful treasure that is unique in its own right.
In 2018, OMEGA's jewellery collection has embraced the symbolic features of the brand's Constellation watches and reinterpreted them for a set of golden bangles that are slim and radiant.
The first piece, in 18K red gold, is an open bangle with a 0.12 carat diamond at one end, and a circle of pink opal at the other.
The second bangle, in 18K white gold, is an overlapping design, again with a single 0.12 carat diamond at one end, and a circle of mother-of-pearl at the other.
As well as featuring a diamond, which is a common element of the Constellation collection, the famous claws of the watches have also been used for design inspiration. At both ends of the bangles, it is clear to see these claws gripping onto the features and enhancing their effect.
The new Constellation bangles an in-line with one of today's most popular styles, and are equally desirable worn on their own or together.
Home
>>
Lifestyle Section