Home
>>
Entertainment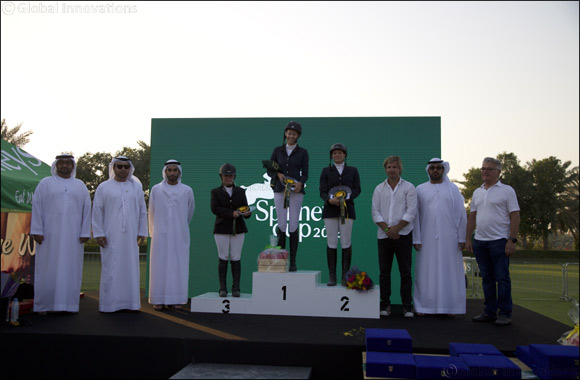 Jillian Bosolo adjudged Spinneys Cup winner
DUBAI – March 26, 2018: The grand finale of the 13th edition of Spinneys Cup Championship, organised by UAE Equestrian & Racing Federation, witnessed a record crowd of 2,600 enthusiasts at the Desert Palm Polo Club in Dubai. Riders and horses from Al Habtoor Polo Club, Dubai Equestrian & Polo Club, Jebal Ali Equestrian Club, Al Ruwayyah Equestrian Club, Team Z7 joined local riders in the day long competition.
Jillian Bosolo riding Al Tsahir Firebird from Dubai Polo & Equestrian Club (DPEC) won the Novice section, while Al Habtoor Polo Club based Fatima Intan Al Mulla riding Golden Kippure finished in the 2nd place with Desert Palm Polo Club's Tammy Petersen riding Another Fortune was in the 3rd place.
In the Intermediate section Attila Kenyo riding Z7's Chitchatnthechapel took 1st place with Rachel Pederson riding Echoes Rock for Desert Palm in 2nd place. Both horses are retired race horses that have been successfully retrained for new careers. Charlotte Kidd riding RS Sahib for the Al Ruwayyah Equestrian Club was in the 3rd place.
The feature section of the day saw a masterful ride by Al Ruwayyah's Holly Coetzee and a wonderful performance by her mount Connor McCloud to take 1st place. Closely behind in 2rd place was Desert Palm's Tracey Irwin riding Mr Taggoat. Both riders had excellent dressage marks of 29.7 and 30.2 respectively while going 'clear' in the Show Jumping section. Alexandra Grant riding Viktorious also for Al Ruwayyah finished 3rd in a very competitive section.
A number of dignitaries attend the event. The President of the UAE Equestrian & Racing Federation, His Excellency Major General Ahmed Nasser Al Raisi, called for an expanded event to be scheduled for the 2018-2019 season to include no less than 6 affiliated competitions across the UAE.
He said, "Eventing is an Olympic discipline and the UAEERF will make strong efforts to provide Emiriati riders with an opportunity to excel in the sport and to strive to represent the UAE in future International competitions including the Asian Games, the World Equestrian Games and onwards to Olympic competitions".
The UAEERF will soon hold meetings with clubs to establish the coming season's calendar and are arranging in November Judges, Course Builders & Technical Delegate courses via the FEI.
Home
>>
Entertainment Section