Home
>>
Government, Legal & Humanity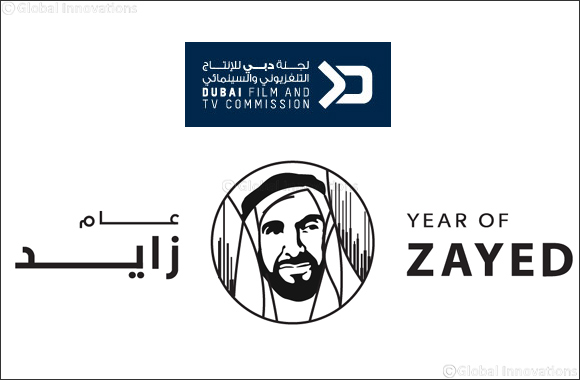 Dubai Film and TV Commission celebrates Year of Zayed by waiving fees for professional productions
Dubai, United Arab Emirates, 2 April 2018: The Dubai Film and TV Commission (DFTC), the organisation committed to establishing Dubai and the UAE as a leading filming destination for local and international productions, has announced it will waive all processing and public location fees for professional production companies that are planning to create content based on the Year of Zayed storyline in 2018.
In addition to the production fee waiver, DFTC has gained participation from key developers, Emaar Properties PJSC and Nakheel, along with Atlantis, who have contributed to the year-long initiative, meaning that from now until the end of 2018, professional production companies will be able to film at many of Dubai's stunning locations, including Burj Khalifa, The Dubai Mall, Palm Jumeirah, Ibn Battuta Mall, Atlantis hotel and a host of other Emaar and Nakheel locations free of location charges.
2018 has been declared as the Year of Zayed by UAE's President, Sheikh Khalifa, to mark 100 years since the birth of this country's Founding Father. The announcement of this year's theme took place on the anniversary of Sheikh Zayed's Accession Day, August 6, 1966, marking the start of the UAE where Sheikh Zayed took his nation to new heights of progress and prosperity.
Sheikh Zayed, known for his wisdom and goodness, has set the foundation of modern development not only in the UAE but also across the region. The Founding Father has been widely recognized in the Gulf region, the Arab world and internationally for his generous contributions and leading initiatives that continue to reflect the direction the country is taking.
To celebrate and encourage the theme of this year, inspired by the late Sheikh Zayed, Dubai Film and TV Commission would like to welcome professional production companies to create content that integrates the Year of Zayed values, including those of wisdom, respect, determination, loyalty and a sense of belonging to the nation.
Saeed Al Janahi, Head of Operations at DFTC, said: ''We are honoured to be embracing the Year of Zayed and implementing steps to allow professional film companies to further the great work done here in the UAE, based on the values that are the cornerstones of this country. Dubai is a filmmaker's oasis, with 340 days of sunshine, state of the art infrastructure and iconic locations, which with the help of DFTC's Year of Zayed initiative, means professional filmmakers have even more access to shooting great content, more easily. We are grateful to be working with partners such as Emaar, Nakheel and Atlantis to make this offer possible. With this initiative, we would like to encourage all professional production companies to celebrate Sheikh Zayed's achievements by creating content based on his vision and sound leadership.''
Jamal Al Sharif, Chairman of DFTC, added: ''Sheikh Zayed has had an immeasurable effect on this nation and we are immensely proud of his achievements and strong vision. The Dubai Film and TV Commission is thrilled to be launching this initiative and to pay public respect to this year's theme.''
Ahmad Al Matrooshi, Managing Director of Emaar Properties, said: "As the UAE marks the Year of Zayed, it is our honour to support DFTC's initiative to provide the various locations across our developments, including icons such as Burj Khalifa, The Dubai Mall, Dubai Opera and Dubai Marina, among others, for creating content that celebrates the values of our nation and the legacy of our Founding Father, Sheikh Zayed bin Sultan Al Nahyan. Emaar has been committed to fulfilling the vision of our leadership through our developments that add to the civic pride of our nation. Through this initiative, we aim to highlight the achievements of our nation as a tribute to Sheikh Zayed."
The offer is effective immediately and is only applicable for professional filming production companies. For more information please visit filmdubai.gov.ae to apply for a filming permit.
Home
>>
Government, Legal & Humanity Section