Home
>>
Entertainment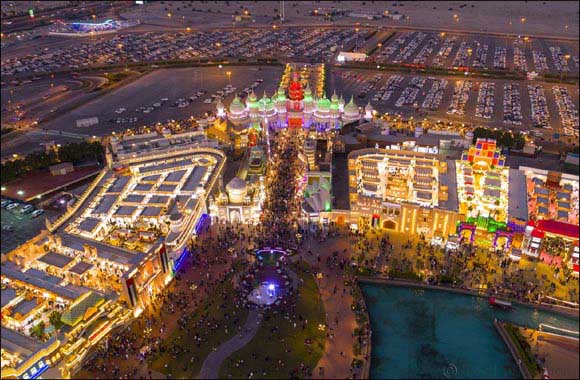 Global Village sets a new record after drawing smiles on faces of more than 6 million guests and achieving 9/10 in their Happiness Index
Dubai, 9 April 2018 – Global Village, the region's first multicultural festival park, and family destination for culture, shopping and entertainment, closed the gates on its biggest ever season on 7th of April 2018. The successful season 22 ended with a record breaking attendance of more than 6 million guests over its 158 days of operation achieved while successfully maintaining a score of 9 over 10 in its Guest Happiness Index. Season 22 had the biggest festivals of shopping, dining, concerts, shows and events, games and entertainment in the history of Global Village.
Global Village closed Season 22 completing 2.9 billion dirhams of business transactions, hosting over 95 nationalities of more than 10,000 manpower showcasing cultures of more than 75 countries. It is now preparing for the much-awaited 'Global Village Awards Night' held each year to felicitate the people, and both private and government entities, who contributed to the success of Season 22.
Bader Anwahi, Chief Executive Officer of Global Village, said: "All our initiatives and endeavours across each and every single touch point have been made with the singular vision of enhancing the guest experience. Global Village, especially in its 22nd season, has strived to be the destination for our guests to experience the world – residents and tourists alike."
Bader Anwahi said: "The shopping, dining, funfair and entertainment experiences offered during the 158 days of season 22, were authentic and of a world class level, which I believe is one of the reasons why Global Village attracted more than 6 million guests with 9 out of 10 in happiness index."
Anwahi added: "Global Village is proud to be the favourite family, culture and entertainment destination among visitors to Dubai and the region. Its unique charm is unmatched by other destinations in the world, and that how we managed to achieve another record of guests this season, who appreciated the diversity of all its elements that combine culture, entertainment, and shopping."
On its second to last weekend, the concert by international pop superstar Liam Payne, witnessed an unprecedented guest turnout of more than 110,000, the record for any concert in its history and one that was recorded amongst the most attended concerts in the history around the world. This was part of a total 23 concerts that took place at Global Village in Season 22. Entertainment has been at the forefront of the Global Village experience with some of the biggest International, Asian and Arab artists performing at its new main cultural stage with its superior acoustics and exciting stage visuals. The stars that descended on Global Village in the five-month period included Arab stars such as Amr Diab, Nancy Ajram, Najwa Karam, Elissa, Tamer Hosney, Shireen; and Bollywood stars Shreya Ghoshal, Mika Singh, Sonu Nigam and Rahat Fateh Ali Khan.
Themed 'Come Experience the World,' Season 22 at Global Village exhibited cultures of more than 75 countries through 27 pavilions with distinctive facades, showcasing the world's most beautiful monuments and civilizations. Bosnia and the Balkans pavilion was the new addition as well as the South Asia pavilion, which represented cultures of Sri Lanka, Bangladesh and Nepal under one roof.
Global Village achieved a Guinness World Records title with the 'Largest Cup of hot Tea in the World' by making 5,000 litres of hot Karak Tea in a single tea cup that stood more than 4.7 metres tall and served free to more than 50,000 guests. In addition, it hosted the biggest pot of coffee in the world, brought over from Bosnia, holding more than 600 litres of coffee that was served to guests.
Season 22 at Global Village hosted several festivals and events to provide a unique cultural and entertainment experience to its millions of guests that enjoyed its unique combination of world-class shopping, unlimited entertainment, international cuisine, and Carnaval - the newest and largest fun-fair land since Global Village started. The entertainment team at Global Village produced a host of the largest theatrical entertainment shows in the region in addition to the exciting mega Monster Stunt Show, one of the most popular shows for guests that featured some of the most exciting movements and action with new and bigger range of technologies, tools, cars, bicycles and audio and video effects that are globally best-in-class. The Main Cultural Stage also hosted several unique shows including Tall Tales, which bridges the reality between huge theatre screens and its exhibits, High Voltage, one of the world's most high energy and acrobatic shows, and Viva Bollywood 2 that returned with a new look.
'Beyond Bollywood,' which performed in Global Village for the first time in the region after its global success, 'Shaolin Monks,' from the famous Shaolin Temple in China and 'Silk Road' produced by the world-famous Ornina were among the signature and hit shows of the season. The National Day special show - Watan Al Ahlam, or Dreamland - took guests on a wonderful journey of music and reflected the true spirit of the union.
Another popular highlight of the season was the immense choice of food and beverage options from hundreds of outlets. Season 22 was home to 23 restaurants and cafes with unique international meals and flavours that include nine new cuisines from Mexico, China, the Gulf and Cuba. More than 120 kiosks distributed throughout the park offered a wide range of street food, snacks, sweets and beverages, some of which are found only at Global Village within the region.
As part of its community outreach, Global Village organised the innovative 'Victory Project' competition with 15,000 students from more than 50 schools in the UAE. They designed and decorated more than 3,000 ceramic tiles in the shape of the UAE's 'Al-Nasr' logo or the Victory sign. These designs were displayed at the Global Village in celebration of the 46th National Day and three schools won prizes of up to AED 100,000 towards developing their arts and crafts departments.
A new engagement and service that Global Village offered to the community this season for the first time in the Middle East after being hugely popular in Europe was the Car Boot Sale activation that was participated by UAE residents over the weekends and helped them get cash from sale of their used items.
Being the premiere multicultural festival destination of this region, we are very conscious of our role towards increasing tourism in Dubai. Therefore, keeping this bigger vision in mind, we had tied up with 52 tour operators and increased our presence in opportunistic markets through exhibitions and road shows to showcase our destination and drive more international visitorship to Global Village in the 21st season."
Home
>>
Entertainment Section