Home
>>
Government, Legal & Humanity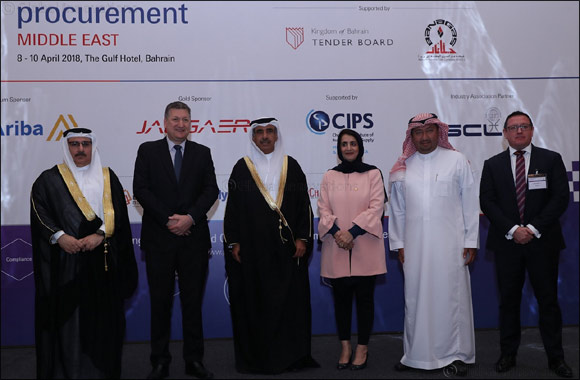 His Excellency Eng. Basim Bin Yacob Alhamer opens 2nd edition of Procurement Middle East Conference
Three-day Bahrain summit throws spotlight on fostering innovation and creativity in procurement processes
Dubai, UAE, April 9, 2018: His Excellency Eng. Basim Bin Yacob Alhamer, Bahrain's Minister of Housing, and Chairman of Bahrain Tender Board, has officially opened the 2nd edition of the Procurement Middle East Conference today (9 April) in Manama.
The one-day pre-conference workshop (8 April) and two-day conference is held under His Excellency's Patronage, as more than 80 delegates from 35 organisations and 21 expert speakers gathered to discuss the role of creativity and innovation in procurement, and how organisations can shift their procurement approach to ensure better results.
Taking place at the Gulf Hotel, and organised by Messe Frankfurt Middle East, the Procurement Middle East Conference is officially supported by the Bahrain Tender Board and the Bahrain National Gas Company (BANAGAS), with SAP Ariba as Platinum and Technology Sponsor and JAGGAER as Gold Sponsor.
Delivering the inaugural address today, His Excellency Alhamer said: "It's undisputed that procurement has evolved throughout the past decade from a clerical, order-taking role, to a more strategic one, whereby modern procurement operates across multiple functions with a much larger array of activities than in the past.
"Due to this evolution, procurement plays a key role in defining an organisation's competitive advantage, and is now more important to the success of the organisation than ever before. Procurement Middle East generates awareness on how the procurement function can have a significant impact on an organisation's bottom-lines, and what can be done to adopt innovative approaches in their procurement function."
His Excellency Alhamer also noted that: "With a track record of pioneering initiatives under its belt, the Kingdom of Bahrain continues to move forward with policies and reforms that empower businesses and industries to establish themselves and grow.
"Bahrain has for many years been at the forefront in introducing initiatives that create an enabling and innovative ecosystem, which allows businesses to thrive. We, at the Tender Board work to promote effective and efficient government procurement practices and systems through a strict regulatory mechanism designed to ensure the utmost fairness and equal opportunity.
"We're focused on making business in Bahrain easier and more efficient, and remain committed to supporting the Kingdom's 2030 Vision by accelerating building infrastructure projects that support the economic development and continued prosperity of our country. To that end, we're delighted to support important conferences such as Procurement Middle East."
Speaking about the Future of Procurement in the Region, Mohammed A. Alkhotani, Head of SAP Ariba MENA a keynote speaker at the event said: "Ten years ago procurement was a tactical, manual process. Today, it's a strategic digital function that is driving business transformation. And this is being driven by things like business networks, cloud-based apps and new technology capabilities like machine learning, artificial intelligence and the Internet of Things.
"Companies in this region are keen to digitize and adopt these new technologies. They are investing heavily in digital transformation and business networks like SAP Ariba, the largest business network on the planet," added Alkhotani.
The dedicated summit concludes tomorrow (10 April) with pertinent topics such as ethical procurement, risk management in international procurement, and how technology can automate and simplify procurement processes in today's global economy under the spotlight.
Ahmed Pauwels, CEO of Messe Frankfurt Middle East, said: "Procurement plays such a key role in any department of an organisation, whether private or public, and in today's complex global business environment, the procurement function becomes even more pertinent when delivering strong business performance and positive bottom lines.
"The procurement sector itself has accelerated and progressed at a very fast rate, while the Procurement Middle East Conference has already established itself as the region's most influential gathering of industry professionals within the sector."
Home
>>
Government, Legal & Humanity Section