Home
>>
Entertainment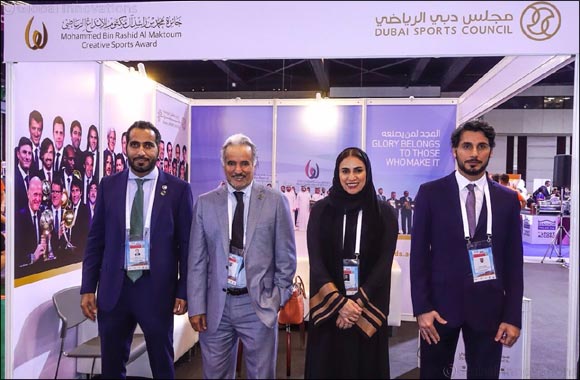 Dubai Sports Council Pavilion a big hit at Bangkok SportAccord
Dubai, UAE, April 19, 2018: The Dubai Sports Council's pavilion at SportAccord 2018 in Bangkok has emerged as one of the top draws at the annual expo, attracting some of the sport industry's biggest names.
A four-member delegation representing DSC and the Mohammed Bin Rashid Al Maktoum Creative Sports Award has travelled to the Thailand capital for this year's SportAccord, which is being held at the Centara Grand & Bangkok Convention Centre from April 15-20.
SportAccord is the world's premier event in the business of sport, dedicated to engaging and connecting rights holders, organising committees, cities, media, businesses and other organisations involved in the development of sport.
Annually, the event brings together representatives from more than 100 International Sports Federations, and the DSC delegation – represented by HE Saeed Hareb, the Secretary General of DSC, HE Moaza Al Marri, a member of DSC's Board and Secretary General of the Award, Saleh Abdulla Al Marzooqi, Acting Director of DSC's Corporate Support Department, and Imran Al Jasmi, Manager of Public Relations Section – has been busy meeting these sports leaders and exploring ways of collaborating with them to enhance Dubai's position at the top of the world's sports destinations map.
All the delegates visiting the DSC pavilion have been presented with the latest Dubai Sports Events Guide, which includes the schedule of the emirate's sports events for the coming 12 years: from 2018 to 2030. The delegates are also being briefed about the many events that Dubai has hosted in the past and why it has, in a short span of time, emerged as the destination of choice for some of the world's top sporting events and exhibitions.
Visitors are also being given a detailed presentation about the Mohammed Bin Rashid Al Maktoum Creative Sports Award, which is held under the banner of the Mohammed Bin Rashid Al Maktoum Global Initiatives and is the biggest award of its kind in terms of categories and financial rewards; it is also the first Award to reward creativity in the world of sport.
Among the most important visitors to the DSC Pavilion on the opening days were: Raffaele Chiulli, the Vice President of Global Association of International Sports Federations; Andrew Parsons, President if the International Paralympic Committee; Xavier Gonzalez, Chief Executive Officer of International Paralympic Committee; and Michael Schmidt, Executive Director of World Baseball Softball Confederation.
The guests expressed their admiration for the Dubai Sports Events Guide and the hard work of Dubai Sports Council in organising an ever-growing list of diverse sport events. They also praised the Mohammed Bin Rashid Al Maktoum Creative Sports Award, which plays a major role in encouraging creativity in sport.
Home
>>
Entertainment Section