Home
>>
Healthcare & Medicine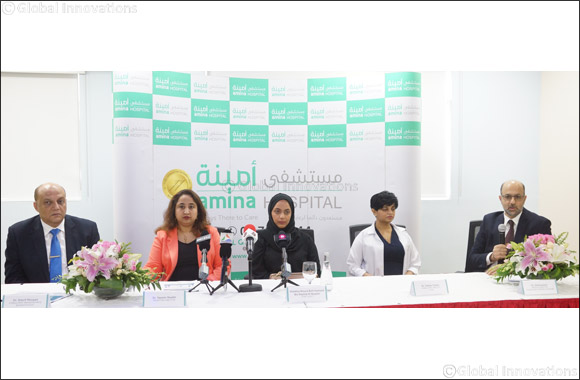 Hospital Celebrates Motherhood; Offers Free Delivery Packages
In the spirit of the Year of Zayed, Amina Hospital is offering two Emiratis and two expat expectant mothers free Royal delivery packages worth thousands of dirhams
Fun-filled Motherhood Carnival on 27th April at Ajman Walk
Sheikha Noura Bint Humaid Bin Rashid Al Nuaimi inaugurates the campaign

April 23, 2018; Ajman, UAE:Commemorating the year of Zayed and to celebrate the journey to Motherhood, Amina Hospital, a premium tertiary care hospital in Ajman has announced their Motherhood Carnival. The occasion brings together an exciting event, special offers and activities while giving four expectant mothers, two emirati and two expatriate; further reasons to rejoice as they win Royal Delivery packages worth thousands of Dirhams.
The campaign was kick started by Sheikha Noura Bint Humaid Bin Rashid Al Nuaimi, Head of X Ajman Centre and member of the ruling family at a Press Conference at the Hospital premises.
The free-to-enter carnival, will be taking place on Friday, 27th April, 2018 between 4 pm to 6.30pm at Ajman Walk, Behind Ruler's Diwan and will be offering a range of amazing engaging activities for both young and the old, including fun games, movies on motherhood, surprise contests, gift hampers and much more to keep the participants on their toes.
Dr. Sailaja Vuppu, Consultant Obstetrician & Gynecologist at Amina Hospital added: "The physical and emotional changes of pregnancy and, then, labor, birth, and breastfeeding play vital roles in guiding women on the journey of becoming a mother. We would like to address these and many related issues through our event. So it wouldn't just be entertaining but educational at the same time providing an opportunity for parents to create a support system for each other".
Announcing the carnival and the festivities that it encompasses Dr. Yasmin Shaikh, Marketing Director- Amina Hospitals, Northern Emirates said, "Becoming a mother is a unique experience and we wanted to make it extraordinary by creating festivities around the theme of motherhood. Other than the fun event, we have also created special offers for the 4 days from 24th -27th April wherein we are providing our normal and c-section delivery packages for AED 4999 and AED 8999,far more affordable and attractive".
People interested in winning the FREE Royal Delivery Packages can register for the draw at the hospital on 24th, 25th, 26th April and at the event on 27th April by paying a nominal fee of AED 500, which will again be instantly given back in the form of AED 1000 worth vouchers to be availed at hospital later.
Speaking at the press conference to announce the Motherhood Carnival Dr. Abdulsalam Almujammaee, Medical Director at Amina Hospital said: "The journey to parenthood is no less than a miracle and every moment should be rejoiced. At Amina Hospital, we understand that for a mother there are a few moments more beautiful than birth of a child and our priority is to ensure every comfort for both the mother and the baby, which is what makes our hospital the place to be for a Royal Delivery experience.
Dr. Raja Sekhar Gujju, CEO, Anglo Arabian Healthcare- Northern Emirates, said, "Amina Hospital has received the prestigious JCI accreditation this year which speaks of the quality patient care that is delivered in the Hospital. The carnival is our first big event of the year for the women of the nation and there are plenty of these planned during the year. Soon, we would be starting the free antenatal and postnatal classes to ease the journey of motherhood and many other initiatives.
Winners of the delivery packages can avail both normal as well as c-section delivery, depending on their requirement. Furthermore, it include services for both the mother and the baby. Expectant mothers will be entitled to complimentary delivery and labour room charges, medical supplies during package days, specialist rounding fee, in-ward obstetrician and first follow up consultation after discharge among other services. While in the case of a cesarean delivery, LSCS charges and anesthesia charges, in-operation theatre will also be included in the package. For babies the package offers vaccination BCG, vaccination Hepatitis B, BCB and a follow up consultation after discharge.
A young entrant in the UAE's burgeoning health sector, Amina Hospital is the recipient of Emerging Healthcare Brand in UAE, 2017 by the Global Brands Magazine awards. The award was in recognition of the hospital's excellence in providing a world-class medical and surgical expertise throughout the United Arab Emirates. Amina Hospitals is a flagship brand of one of the leading healthcare groups of the region known as Anglo Arabian Healthcare.
Home
>>
Healthcare & Medicine Section