Home
>>
Government, Legal & Humanity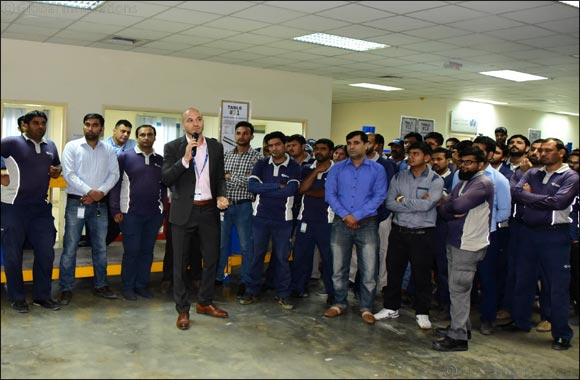 Micro-Learning Approach Complements Emirates Post Group's Robust Learning and Development Strategy
Dubai, United Arab Emirates – April 25, 2018 – Emirates Post Group (EPG) has recently launched a diversified bundle of educational models based on the Micro-Learning Approach. This approach is considered one of the group's Human Resources pillars, aimed at reinforcing employees' knowledge, providing them with accurate procedures and behaviors, when dealing with customers and attending to their demands. The training program keep EPG's values of Customer Happiness, Excellence and Innovation, Transparency, Teamwork, Integrity at the forefront.
This very important approach is an effective teaching technique that involves short bursts of highly engaging and interactive information. Delivered to the employee in a form of videos shown to train, strengthen, and provide real-life examples of customer related situations, the employee can comprehend instantly, learn new skills promptly, and take the proper action in servicing and attending to clients' demands. At EPG, each employee receives well-rounded Human Resources support and a series of training programs to ensure full knowledge of customer service parameters to deliver excellence.
In addition, the group has launched a QR-Code automated system towards training evaluations. Employees participating in any training or workshop scan the code and evaluate the course by answering a set of questions from the convenience of their phones and immediately following the training. This provides the Human Resources team with immediate feedback on employee engagement and satisfaction with the course.
Mr. Sami Mohammed Al Khaja, Chief Support Services Officer at EPG, commented on this announcement by saying: "The Micro-Learning approach is a fundamental learning and development solution for our employees. These training programs will further motivate them to build higher efficiency, acquire exceptional skills, think creatively, innovate, and achieve significant results at a personal level, for the best benefit of the group and the public at large."
"Our strategy at EPG is to excel in servicing our customers through our happy and efficient employees, aiming at creating a benchmark in customer service that supports the country's wise leadership to achieve the UAE's Vision 2021." Al Khaja concluded.
Home
>>
Government, Legal & Humanity Section