Home
>>
Fashion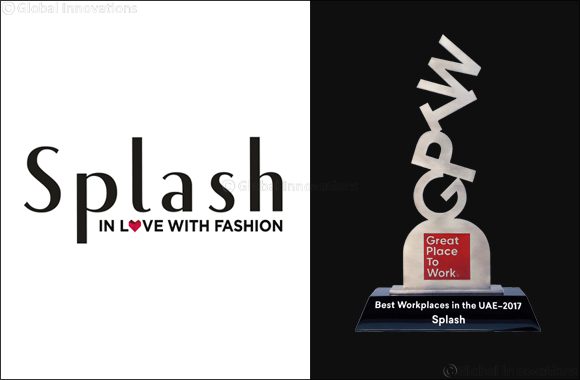 Great Place to Work® recognizes the UAE's top 25 employers for 2017-2018
Dubai, UAE, 28, April 2018: Splash has been officially recognized as one of the 'Best 25 Workplaces in the UAE' for 2017-2018 by Great Place to Work®, a global research, training and consultancy firm that identifies the best workplaces in over 50 countries worldwide.
The official list, which was announced during an awards ceremony on 25th April 2018 at Jumeirah Zabeel Saray, is a ranking of the nation's 25 best employers based on the confidential feedback of employees and an audit of management policies and practices.
What sets Splash apart fundamentally are our strategically built Happiness programs such as Work-Life Balance, Hello HR (a platform to voice opinions/ feedback). Meet the CEO, Retail Employees Day, Be Nice, and Top Guns (Employee Development Program). These initiatives not only address challenges but also create an emotional connection with the organization and internal teams.
Most programs that we work with are born out of experiences or personal communication with staff at the office and store level. Feedback- aided communication helps give management an understanding of the needs and requirements to keep our employees happy in the long run and create a fair work system that promises to take care of their growth in the organization" said, Raza Beig, Board Member, Landmark Group and CEO- Splash & ICONIC and Landmark international.
To select the 'Best Workplaces in the UAE', Great Place to Work conducts an evaluation of each participating company. Two-thirds of the company's score is based on the results of the Institute's proprietary Trust Index© survey, which is sent to the employees from each company. The survey asks questions related to their attitudes about the management's credibility, employee engagement and job satisfaction. The other third of the scoring is based on the company's responses to the Institute's Culture Audit©, which includes detailed questions about pay and benefits programs and a series of open-ended questions about hiring, communication, and development.
Each entry is judged according to performance in eight key areas: Leadership, wellbeing, giving something back, personal growth, fair deal and how members of staff feel towards their manager, company and team.
Commenting on this year's Best Workplaces list, Maha Zaatari, Managing Director of Great Place to Work in the UAE, said: "The Best Workplaces list recognizes organizations that have demonstrated a truly serious commitment to creating workplaces that foster trust, pride and camaraderie amongst their employees. Every organization that made it onto the list should be proud of this noteworthy accomplishment. Based on our annual benchmarking study, we can say, without a doubt, that these 25 companies are the best workplaces in the UAE. Congratulations to all the list makers."
Home
>>
Fashion Section