Home
>>
Entertainment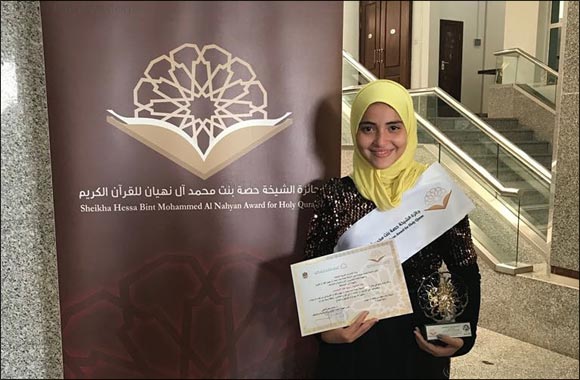 Sheikha Hessa Bint Mohammad Al Nahyan Award for Holy Quran bestowed to ISCS Emirati student
United Arab Emirates, Sharjah, 30 April, 2018 – Jana Mohammed, a 12-year-old Emirati student from ISCS, Nad Al Sheba, Dubai, was recently awarded first prize in UAE and third in GCC for reciting five different sections of the Holy Quran at the Sheikha Hessa Bint Mohammad Al Nahyan Award.
The award ceremony was held at Al Bayt Mitwahid Association in Abu Dhabi for the memorization of the Holy Quran. The inauguration of the seventh session, was held under the patronage of H.H. Sheikha Shaikha bint Saif bin Mohammed Al Nahyan, the wife of Dr. Sheikh Sultan Bin Khalifa Bin Zayed Al Nahyan, Advisor to the President of UAE.
Commenting on this outstanding achievement, Naveed Iqbal, principal of International School Of Creative Science Nad Al Sheba, said: "Throughout all of Beam's Creative Science Schools, students are encouraged to undertake Islamic studies from an early age as it teaches not only religion, but also unique morals, respect, perseverance and admiration. The accolade received by Jana is a fantastic tribute to dedication and commitment to the Islamic faith and moreover it illustrates the contribution of the school through this programme to its students' success".
This year, the competition witnessed widespread participation from 370 contestants whom only 287 were eligible, this merely reflects the importance of the competition. "Winning this competition among this high number of contestants highlights the prestigious reputation of the award", he added.
According to this year's award categories, the fifth and sixth graders had to memorise and recite three sections of the Holy Quran. Acknowledging her efforts, Jana was awarded with a shield, a trophy, a certificate and a significant cash prize.
In addition to ISCS, Nad Al Sheba, Dubai, the five schools operated by BEAM are renowned not only for their excellence in operating the British K-13 and American K-12 curriculum but also have a dedicated Holy Quran memorisation programme that supports Islamic studies and instils the values of Islam in the mind-set of the students.
BEAM's Creative Science Schools take pride in recognising each child's unique gifts and talents while ensuring they experience a holistic educational process at all of the campuses. In addition to building core critical thinking skills, promoting modern languages and sciences, and academic excellence among their pupils, each of the five Creative Science Schools campuses are carefully designed to promote strong moral values and principles, creating well-rounded global leaders of learning, innovation, humanity and faith.
Home
>>
Entertainment Section