Home
>>
Government, Legal & Humanity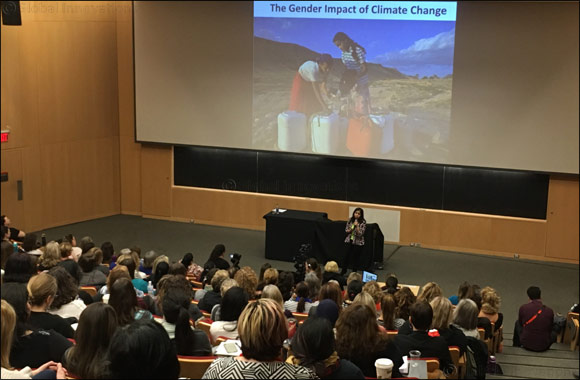 Green Hope's April Advocacy
Dubai, UAE, May 01, 2018: It gives me great pleasure to inform you that Green Hope has been creating awareness among every section of civil society about the need to protect our planet and how we can achieve the 'Future We Want'.
I am sharing below highlights of our April outreach and advocacy :
a) We were invited to speak at the One Woman Fearless Summit at Carleston University, Ottawa where I spoke about the need to achieve a gender equal world for a sustainable future..
b) Green Hope took part at the Green Living Show in Toronto and I spoke about all our activities and the role of youth in the SDG process.
c) We were also invited to speak at the Saint Louis Climate Summit in Missouri, USA, where I shared our journey in achieving the SDGs and shared the stage with legends like Mario Molina , Nobel Laureate for Chemistry, Bill Nye - the 'Science Guy' and Carl Pope - ex head of the Sierra Club.
d) A tree has been planted in Green Hope Foundation's name in Bernheze , Netherlands, by the alderman of the municipality of Bernheze who underlined the good work Green Hope foundation is doing and the importance of young people to work for the environment and society.
e) For Earth Day, we planted 500 trees with the Mayor of Toronto at a community tree planting event.
f) We also conducted 3 recycling campaigns --two in Dubai and one in Toronto in our quest to #BeatPollution.
h) Green Hope connected via video link with an SDG awareness event for middle school students in Abu Dhabi.
Green Hope continues in its journey of achieving a balance among the three pillars of sustainability and we need all your support to get the 'Future We Want'.
Home
>>
Government, Legal & Humanity Section