Home
>>
Government, Legal & Humanity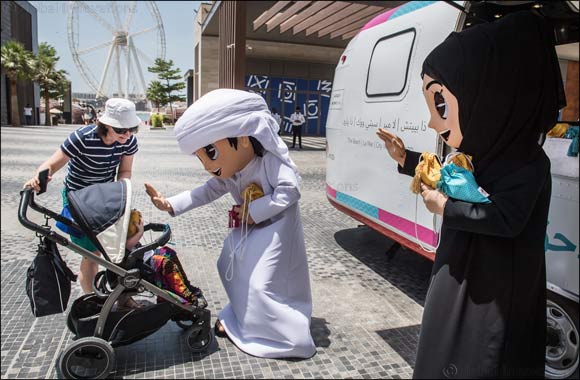 Hamdan Bin Mohammed Heritage Center Launches Mascots Omeir and Ghbeisha
Dubai, 1 May 2018: The Hamdan Bin Mohammed Heritage Center (HHC) launched two mascots, Omeir and Ghbeisha, at 'Hag al-Leila' on Monday, celebrating an significant Emirati tradition marking the eve of the 15th day of Sha'aban and serving as a precursor to the holy month of Ramadan.

Wearing traditional Emirati clothes, Omeir and Ghbeisha surprised the kids and adults alike with sweets and treats at four various locations across Dubai, namely: The Beach, La Mer, City Walk and The Yard.

"Omeir and Ghbeisha showed their spontaneity and reflected the patriotism and kind nature of Emiratis who are deeply connected to their heritage and culture," said Hind Bin Demaithan Al Qemzi, Director of Events at HHC.

"The distribution of sweet treats during Hag al-Leila is a long-held tradition by Emiratis and people in the region which we continue to hold and enforces our national identity especially among children," she added.

Following the success of Omeir and Ghbeisha's engagement with kids and residents during Hag al-Leila, the duo will also appear in all of HHC's future events and activities.

"Omeir and Ghbeisha will carry corporate messages to address the younger generation, enrich their heritage and nurture a generation that is rooted to its culture and society," Al Qemzi concluded.

About Omeir and Ghbeisha
Omeir and Ghbeisha are friendly, spontaneous and reflect the patriotism and the kind nature of the Emiratis who are connected to their culture and heritage.
Despite their deeply rooted bonds with their national identity seen in their local costumes, their language, traditions and ethics, Omeir and Ghbeisha, are part of the innovation, creativity and overall smart technology adaptation in the country.
As the Center's approach of the visual figures, the two characters also represent the hopes, dreams and aspirations of the new generation.

To convey the Center's corporate messages through animations and various visual ways of communication, the two fictional Emirati characters: Omeir and Ghbeisha, will be present in many of the events, championships and more!

Home
>>
Government, Legal & Humanity Section