Home
>>
Technology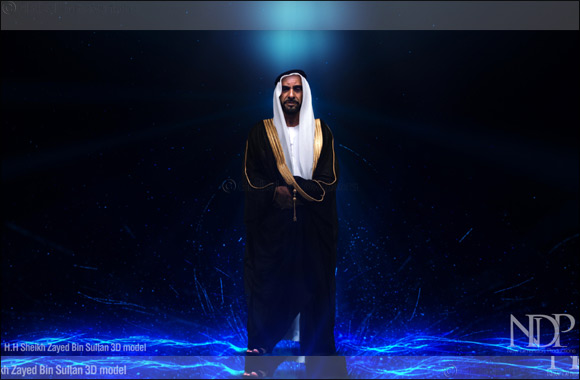 H.H Late Sheikh Zayed Inspirational Speech in a Pioneering Hologram by NDP
Bringing back the past into the present to create the future…
06 May 2018 – Dubai, UAE: On the occasion of the Year of Zayed and in memory of H.H the late Sheikh Zayed Bin Sultan Al Nahyan's vision, the founding father of the UAE, New Dimension Productions (NDP) presented one of H.H's inspiring speeches through a groundbreaking hologram. The hologram, a first of its kind in the region, is a result of recreating a 3D realistic model based on a historical motivational speech by the late Sheikh Zayed, in a world where smart solutions and innovation are the norm.

A state of the art 3D technology was used to recreate the late Sheik Zayed's 3D model detailed facial textures, head animation and over all compositing. Covering all the aspects resulted into a final production of a realistic holographic footage of H.H's important message to the youth who will shape the Emirates' future. The major challenge was to create the realistic model and H.H characteristics in the animation and feel of the speech to deliver the message intended by H.H. The production was created by a team of experts and over 400 hours of work to perfect the holographic experience.

"NDP team pushed the boundaries of 3D photo-realistic modeling and animation, compositing and Visual effects to a whole new level; bringing forth a hologram that can reflect the astonishing persona of His Highness", said Hasan M. Hina, Co-Founder and CEO of NDP. "It is also a tremendous honor to produce a hologram of H.H. on the occasion of the Year of Zayed, which gave us an additional motivation to perfect it" he added.

In order to deliver this World Class production, NDP's team conducted extremely thorough research of Sheikh Zayed's archive carefully studying his tone of voice, his facial expressions and body gestures. Remastering the audio was a real challenge, different sources of recordings had to be matched, synced and tuned. NDP team challenged themselves to prove that the region and Dubai in particular hold talents that can deliver high-end productions. This technique is used in Hollywood movies to create fantasy characters or real humans in blockbuster movies. New Dimension Productions are the only ones in the region who can deliver this level of quality.
"My vision to lead the hologram production in the region and to show the world the rich history and heritage that the Middles East has required a visionary country to accept it, a market and an environment where there are no limits, where impossible is a word meant to be challenged. Therefore, we moved our main office to Dubai in 2016. Our base of clients were UAE and GCC based, therefore, it was an obvious decision to bring communications closer and to explore opportunities to make my vision a reality, in a country that aims to pioneer in every aspect of life and to bring the future closer" added Hina.
First established in 2010 in Amman, Jordan, New Dimension Productions is a leading regional film & motion picture production agency, with a mission to lead the computer motion picture production industry. Their team brings on a creative flare to motion picture and film requirements and produces extraordinary culture friendly executions.
Home
>>
Technology Section