Home
>>
Entertainment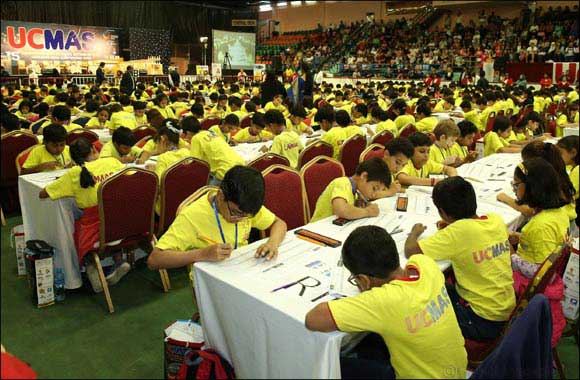 Over 1100 UAE children test their minds at mental math competition
UAE students shine at the National Abacus Championships
The 15th UCMAS National Abacus Mental & Arithmetic Competition saw students use their brains faster than a calculator
Children attempt to solve 200 Maths sums in mere 8 minutes
May 6, 2018; Dubai, UAE: Agility of mind was tested to the core as hundreds of nimble-minded, quick thinking youngsters took on the challenge of mental arithmetic at the 15th UCMAS National Abacus Mental & Arithmetic Competition 2018. The contest tested over 1100 children on their arithmetic skills, involved answering a whopping 200 math problems in a matter of mere 8 minutes.
In all, 242 children from across UAE within the age bracket of 6 years to 13 years won under various categories in the high-intensity, mentally stimulating contest, out of which 9 children bagged the Grand Champions award, 23 won the champions trophy, while 24 and 27 children received the 1st and 2nd runners-up awards respectively in the Competition. The rest won the 3rd, 4th & 5th runner up prizes. UAE students across all the emirates and over 22 nationalities participated in the contest. Jordanians, Pakistanis, Algerians, Srilankans and Indians outshone others while grabbing the top positions.
The young children battled for coveted prizes by solving mental math questions in a matter of seconds, at times even faster than the ever-reliable calculator. Participants at the contest also included five students from the Al Amal School for Deaf associated with the Sharjah City of Humanitarian Services, who were felicitated and appreciated for taking up the challenge and giving the other students a run for their money.
Participants were given a narrow time frame to answer questions involving addition, subtraction, multiplication and division set at different levels of difficulty. In Visual Competition students had to answer 200 question in mere 8 minutes. Those who solved maximum number of sums in the stipulated time were crowned the champions.
Approximately 150 students participated in the Listening and Flash competitions wherein numbers were called out or flashed on screen for children to compute and write the answer. 11 Children in Listening and 10 Children in Flash Competition bagged trophies in 2 categories based on their age. The intensity sharpened to 3 or 4 digits as the competition heated up.
The Universal Concept of Mental Arithmetic System (UCMAS) is an internationally acclaimed skill and mental development programme that promotes mental arithmetic system designed for children between 6 and 13 years of age. The programme offers eight levels in which students explore their creativity, imagination and powers of abstract thinking. Currently, 3,500 students are enrolled in the program at 34 centers across the UAE.
Commenting on the challenge, Mrs. Soundari Raj, Managing Director UCMAS UAE, said: "Children and teenagers today are far intelligent than ever before, and they need energetic activities to exercise their minds. The UCMAS programme fits the bill since it not just improves the speed of thinking, but successfully sharpens their concentration and observation skills. This year's competition further cemented our belief that students now-a-days thrive on challenges and are willing to scale greater heights, provided they have a platform which they can use constructively".
Mr. Swarup Anand, Director, UCMAS UAE congratulated the winners and their parents and added: "In its 15th edition now, UCMAS National Abacus Mental & Arithmetic Competition, has become a milestone event in the lives of many students. Through this programme we have introduced various tools to enhance skill development among younger and older kids. As a society, we need more of such activities to keep our children and young adults occupied and to distract them from spending hours on tablets. The competition is no mean task, and every student who participated should be proud of this achievement irrespective of whether they won or not".
Chief guests at the event included Mr Amol Vaidya, Director Operations of Global Schools in MENA, Mr. Anthony Joseph, Principal, Sharjah Indian School – Juwaiza, Sharjah, Mr. Vijay K Mathu, Retired Vice Principal, Abu Dhabi Indian High School,Mr. Alexan Wong – Director of Operations, UCIC International Headquarters, Malaysia, Ms. Badriya Mohammed Ibrahim, Head of Enrichment Activities – Hamdan Bin Rashid Al Maktoum Center for Giftedness and Creativity, Mr. Faisal Al Shehhi, Head of Identification Section – Hamdan Bin Rashid Al Maktoum Center for Giftedness and Creativity besides Principals of different schools in the UAE.
Home
>>
Entertainment Section