Home
>>
Government, Legal & Humanity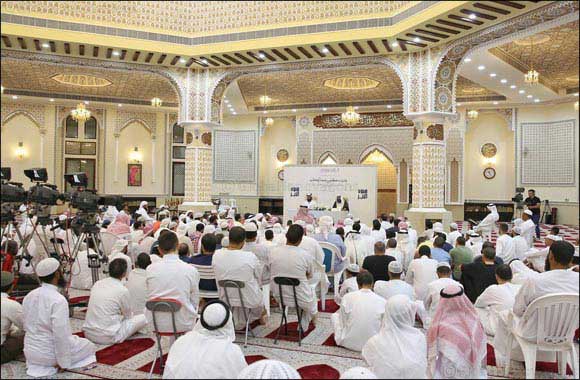 Hamdan Bin Mohammed Heritage Center Holds 5th Edition of Haboub Al Khair
* Lectures expanded this year and will be delivered in four languages
Dubai, 8 May 2018: Under the directives of Her Highness Sheikha Hind bint Maktoum bin Jumaa Al Maktoum, wife of His Highness Sheikh Mohammed bin Rashid Al Maktoum, Vice-President and Prime Minister of the UAE and Ruler of Dubai, the Hamdan Bin Mohammed Heritage Center (HHC) will hold the 5th edition of 'Haboub al Khair', a series of lectures by prominent Muslim Imams
Focusing on the core values of Islam and its impact on of the lives of people.
Haboub al Khair lectures will start from 3rd of Ramadan until 9th Ramadan - from May 19 to 25 and will be held at four mosques across the UAE, including Mirdif Grand Mosque in Dubai, Amna Al Kabeer Mosque in Ajman, Shaheed Issa Al Badwawi Mosque in Hatta, and Sheikh Zayed Mosque in Umm Al Quwain.
A total of 28 lectures will be held in Arabic, dealing with various concerns such as the family and community, the path to righteousness, fasting and repentance, reflections on a happy life, the various aspects pertaining to the Names of Allah, and other topics enriching the faith of Muslims during the holy month of Ramadan and throughout the year.
Emirati reciters of the Holy Qur'an will hold Taraweeh prayers before lectures throughout the entire week-long program at Mirdif Grand Mosque.
H.E. Abdullah Hamdan bin Dalmook, CEO of HHC, underlined the importance of the program in enabling the faithful to observe the holy month and strengthen their faith. He said: "The objective of this initiative comes from developing a way of life that leads to success, tranquility and stability of families, which is the nucleus of society."
Bin Dalmook also expressed his appreciation to various institutions inside and outside the UAE for their efforts in implementing the program in alignment with the directives of HH Sheikha Hind Bint Maktoum Bin Jumaa Al Maktoum. He said: "Her Highness has always taken the lead in supporting noble and charitable causes and embracing educational, cultural and awareness programs aimed at promoting our values, traditions and national identity."
Moreover, Haboub al Khair has been expanded this year to include the expat Muslim communities. A total of seven lectures will be held at various mosques around Dubai which will be delivered by Imams in different languages, including English, Malabari, Urdu and Bengali.
Masjid

Language

Topic

Lecturer

Date

Masjid Al Zarooni, Naif

Malabari

Repent to Allah

Imam AbdulSalam Mohammad

3 Ramadan May 19 Saturday

Masjid Al Zarooni, Naif

Urdu

From the Path of the Righteous

Imam Zafar Al Hassan

4 Ramadan

May 20 Sunday

Masjid Khadijah Bint Khuwaylid, Al Nahda

English

Signs/ Reflections of a Happy Life

Imam Rashid Al Junaibi

5 Ramadan May 21 Monday

Masjid Abu Dhar, Muhaisnah

Urdu

You are the Best Nation

Imam Yaseer Al Jabri

6 Ramadan May 22 Tuesday

Masjid Khadijah Bint Khuwaylid, Al Nahda

English

Sincere Repentance

Imam Tahir Wyatt

7 Ramadan May 23 Wednesday

Masjid Khadijah Bint Khuwaylid, Al Nahda

English

Shifting our Focus

Imam Wadji Akkari

8 Ramadan May 24 Thursday

Masjid Abu Dhar, Muhaisnah

Bengali

The Religion is a Sincere Advice

Imam Moti ur Rahman bin Abdul Hakim

9 Ramadan May 25 Friday
Home
>>
Government, Legal & Humanity Section