Home
>>
Government, Legal & Humanity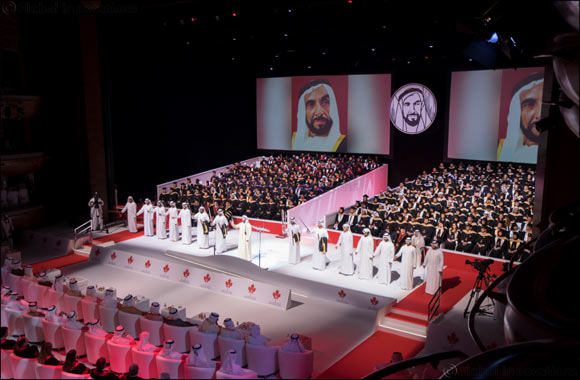 HH Sheikh Nahyan bin Mubarak Al Nahyan, UAE Minister of Tolerance, confers degrees on 360 graduates
CUD Graduation honours 'Class of Sheikh Zayed Bin Hamdan' in centennial Year of Zayed
Dubai, May 14, 2018: Under the patronage and attendance of His Highness Sheikh Nahyan bin Mubarak Al Nahyan, UAE Minister of Tolerance, the Canadian University in Dubai (CUD) hosted its 8th graduation ceremony recently and named it 'Class of Sheikh Zayed Bin Hamdan Bin Zayed Al Nahyan' to salute the brave UAE hero.
HH Sheikh Nahyan conferred degrees on 360 students at a spectacular ceremony held at Dubai Opera, attended by a galaxy of prominent dignitaries, including H.E. Masud Husain, Canadian Ambassador to the UAE, and members of the University's Board of Trustees, Hon. Sheila Copps PC OC, former Heritage Minister, Environment Minister and Deputy Prime Minister of Canada, Hon. Dalton McGuinty former Premier of Ontario, Canada, the Hon. Aldea Landry, former Cabinet Minister and Deputy Premier of New Brunswick, Canada and Mr. Abdulla Mohd Obaidallah, Member of the Board of Directors for Emirates Investment and Development.
Addressing the audience, HH Sheikh Nahyan said the bravery of Sheikh Zayed Bin Hamdan Bin Zayed Al Nahyan will boost national pride and the country's stability. He also remarked that the annual graduation ceremony reflected the University's success and leadership in helping students to excel and succeed.
HH Sheikh Nahyan congratulated the students on their graduation in the Year of Zayed (may God's mercy be upon him) who laid the foundations of tolerance and nation building. HH Sheikh Nahyan hailed Sheikh Zayed as a great leader focused on building the present and shaping the future, and urged the graduates to draw inspiration from his vision.
He added that this distinctive Class of 2018 will always carry the name of the UAE champion Sheikh Zayed bin Hamdan bin Zayed Al Nahyan, who stands out as a model of sacrifice, bravery and commitment to protecting the nation's integrity.
Mr. Buti Saeed Al Ghandi, Chancellor of CUD, spoke of his pride in hosting the eighth Graduation ceremony, a testimony to the growth and excellence pursued by the University. He said he was very pleased that the graduates have been trained to take active roles in public and private sectors, thus ready to contribute to the prosperity of the Nation.
The 360 students were awarded degrees from across the spectrum of Canadian University Dubai's 40 program offerings in Business Administration, Public Health and Health Sciences, Engineering and Applied Science & Technology, Architecture and Design, Communication and Media Studies and the Liberal Arts and Sciences.
The student speaker for the event, Asma Ghanam, spoke of University life, and her transition from a nervous newcomer to a fully qualified and better version of herself. She expressed her gratitude to everyone in the University who supported her: faculty, administration and her fellow students. She also paid tributes to her parents and concluded by thanking the University for a wonderful four years and wishing them a great future in the wonderful city of Dubai.
University Vice Chancellor and President, Dr. Karim Chelli, spoke of the Year of Zayed and spoke of the late Sheikh Khalifa bin Zayed Al Nahyan, President of the United Arab Emirates, referring to his achievement in advancing the provision of education for his people and added that CUD was proud to be a direct result of that legacy. He expressed his pride that CUD had developed along the goals of the late Sheikh Zayed. He also referred to the strong and growing relationships formed over the years with prestigious Universities in Canada benefiting both the UAE and Canada.
"The fact that our graduation has attracted such prestigious guests from around the world, guests who are leaders in academics and leaders in government, is testament to our commitment to providing our students with a high quality education and the links and experience they need to succeed here in the UAE, in Canada or anywhere else their career paths take them,' Dr. Chelli added.
Home
>>
Government, Legal & Humanity Section