Home
>>
Entertainment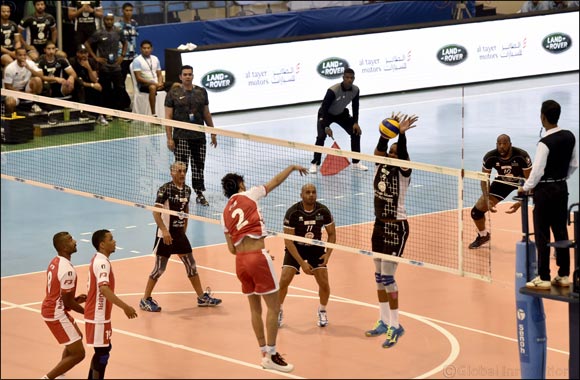 Defending champions Surprise stunned in NAS Volleyball opener
DUBAI – Surprise, they never saw it coming.
Dubai, UAE, May 19, 2018: The reigning NAS Volleyball champions, boasting two of the world's top spikers in their ranks and high on confidence, were expected to open their 2018 Nad Al Sheba Sports Tournament campaign with a win against F3 'A'. Instead, Surprise were stunned 3-2, despite a fightback from 0-2 down.
In the deciding fifth set, the two teams went toe-to-toe until 7-7, but then F3 'A' started inching ahead to eventually prevail 25-20, 25-17, 14-25, 13-25, 15-12 in an engrossing battle that lasted an hour and 55 minutes.
In the second volleyball match of the night, F3 scored a 3-0 (29-27, 25-15, 25-23) win over Leader Sport.
"Surprise are the champions from 12 months ago and they also have two of the world's best players in their rank," said an elated Humaid Mohammed, the F3 'A' coach. "So this win is a huge boost for us. It will certainly raise our morale going forward in this tournament."
The two players he was talking about was Surprise's decorated Cuban duo of Robertlandy Aties and Yoandy Leal, who helped their national team win silver at the 2010 World Championship. Now they are teammates at Brazilian club Sada Cruzeiro, with whom Aties has won a FIVB Club World Championship. Leal has won three Club World Championship titles with Sada Cruzeiro, and a silver and bronze.
At last year's Club World Championship, Leal picked up the 'Best Outside Spiker' award, while Aties was voted as the 'Best Middle Blocker'.
Together at Surprise, Leal and Aties did the bulk of the scoring at the Nad Al Sheba Sports Complex on Friday night, with the first scoring 14 points and the latter a game-high 24. Thanks to them, Surprise won the battle of the points 99-92. But they lost the war, due to some astute planning by the F3 'A' coach.
"In the fifth set, we decided to starve Leal of the ball," Humaid Mohammed said. "We made sure we did not hit much in his direction. And we also put two men to focus on just Aties and deny him."
The strategy worked for F3 'A' and their Cuban import Yosvany Hernandez, who led the points chart for the winners with 16, is now looking forward to the rest of the campaign.
"This is the first match of the tournament and it is always important to start with a win," said Hernandez. "But this win is even more important because it comes against the reigning champions. So this is a very important for us and you could say, it is worth double the points.
"Surprise have some amazing players in their team. But we have good players as well. We play together and fight as a unit, and that is what took us across the line tonight."
The second match got off to a thrilling start with the two teams going neck-to-neck in the opening set until F3 prevailed 29-27. In the second set, F3 steamed ahead from the mid-way mark and then prevailed in the third despite a late fightback from Leader Sport.
In the Padel tournament, Javier Lopez and Sandy Farquharson scored a facile 6-1, 6-1 win over Tony Salord and Pyotor Bakass, while Benjamin Cassaigne and
Xavier Masson defeated Abdulla Ahli and Saeed Al Marri 6-2, 6-2.
Organised by Dubai Sports Council (DSC) under the patronage of His Highness Sheikh Hamdan Bin Mohammed Bin Rashid Al Maktoum, Crown Prince of Dubai and Chairman of Dubai Sports Council, the 2018 NAS Sports Tournament will see more than 5,000 athletes compete for a total prize-purse of Dh6 million in Dubai, across 11 competitions.
The tournament has also gone international this year with a five-a-side futsal competition taking place in the Egyptian capital Cairo and an eight-team volleyball tournament being held in Amman, Jordan.
Home
>>
Entertainment Section